Visitors to Chincoteague often remark that they are surprised that there is never a shortage of things to do on our small Island, seven miles long and three miles wide. Chincoteague is uniquely situated to offer a wide array activities. Chincoteague Island lies right next door to Assateague Island, with the only publicly accessible beach between Ocean City, MD. and Virginia Beach, VA. Scroll down to view the wide array of activities available on Chincoteague Island.
Assateague Island
Assateague Island is the home of the Chincoteague National Wildlife Refuge. Assateague Island offers a pristine public beach and incredible outdoor recreational opportunities. Click here to view the Assateague Island Activities page.
---
Biking and Hiking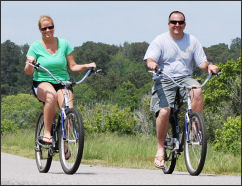 Chincoteague offers a great place to take off with a bike or walk. Everything is close and has the perfect blend of small town and wilderness. Many of the roads on Chincoteague have sidewalks. The Chincoteague Bicycling Advisory Committee is taking great strides towards enhancing the recreational experience of the bicycling public on Chincoteague Island. Hiking and Biking on Assateague Island offers many views of nature that you would not see anywhere else. There are 15 miles of trails that wind through the marshes and forests and including a path to the Assateague Lighthouse.
Chincoteague offers a fantastic, paved nature trail on Hallie Whealton Smith Drive, which is located off of North Main Street, near Chincoteague High School. The Island Nature Trail is located along both sides of Hallie Whealton Smith Drive. The land where the trail is located represents some of last large tracts of undeveloped land on Chincoteague. The trail is a place where you can see wildlife in its natural habitat and it provides a safe haven for people to walk, run, ride their bike, bird-watch, or just enjoy the natural side of Chincoteague. To the south is an accessible 0.7 mile long paved loop path complete with benches, and an interpretive sign display. Pets are allowed along this portion of the trail. To the north is a natural surface trail that loops approximately 0.45 miles through pine forest and glade. No pets are allowed on this portion.
Bike and Beach Gear Rental



The Bike Depot
The closest bicycle rentals to the beach, The Bike Depot offers a wide selection of over 200 standard and specialty cycles for riders of all ages. Beach rentals include heavy-duty sunblocking umbrellas, lightweight beach chairs, boogie boards, and skim boards. Bicycles are first-come, first-served--Hourly, Daily, and Weekly rates available.
Location: 7058 Maddox Boulevard, Chincoteague VA 23336
Phone: 757-336-5511
Email: Click Here
Website: Click Here
Find Us: On Google Maps
---
Boating
Boating is one of the more enjoyable pastimes on Chincoteague. If your interests are fishing, water-skiing, or just wanting to enjoy the water on a peaceful summers evening, the options are here for you to use your own boat or rent one. With the purchase of a City Boat Sticker, anyone wishing to put in their own boat will have access to 3 Town supported public boat ramps. Boat ramp stickers can be purchased at the Town Office, Police Station, and from the Harbormaster. Guided scenic/nature boat tours are also available.
Boat Rentals
---
Boat Tours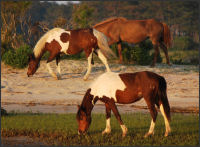 A boat tour is a must do activity for your Chincoteague Island vacation! You will gain a perspective of the area that is not achievable any other way.

Most of the tour boat companies offer "Scenic Nature Cruises" that will allow you experience the abundant wildlife and unspoiled nature of Chincoteague and Assateague Islands. Wild Ponies, Dolphins, Bald Eagles, and Sunsets over the Bay are just a few of the highlights you'll have a chance to experience on a Scenic Nature Cruise.

A couple of the tour boat companies offer specialized tours, such as a Pirate Ship adventure and hands-on Marine Ecology tour. Click here for a complete list of Chincoteague Island Tour Boat Companies.
---
Crabbing
Crabbing on Assateague and Chincoteague Islands is one of the favorite pastimes for both the local residents and visitors alike. The preferred method for crabbing is with a net and baited line. All of the needed materials can be purchased at any local fishing shop, or hardware store. Most people like to use old pieces of raw chicken, tied to a line with a weight, sitting at the bottom of the water. The crabs will try to catch the bait and are lured into your waiting crab net. Cook the crabs by steaming them in a large crab pot with a generous amount of Old Bay Seasoning, and you can enjoy one of the Eastern Shores most famous delicacy. The size restrictions and limits in Virginia are enforced as a conservation measure. Crabs must measure 5" from back shell point-to-point.
---
Clamming
Clamming is another water pastime that is also plentiful on the Eastern Shore. The favored method is raking while wadding in generally shallow water. The best times being during the low tides. Another way is walking in the sand at low tide and 'signing' them. That means looking for the little keyhole indentations in the sand. By digging just under the surface of the sand, you will find the clams. Some of the Scenic Tour Boats offer clamming excursions.
---
Event Venues



The Chincoteague Center
Let world-famous Chincoteague Island be the backdrop for your next business or social event! This quaint seaside town retains the flavor of yesteryear while providing all the amenities of today. Whether you're planning a convention, tradeshow, corporate event or conference, class, festival, wedding or reunion – the Chincoteague Center provides the perfect venue and meeting place. Our modern, spacious facility can accommodate up to 800 attendees in a 9,000 square foot area that includes sliding wall partitions for virtually unlimited space options. The island's beautiful downtown district hosts a multitude of shops, seafood restaurants and art studios – and its close proximity to the NASA Wallops Flight Facility, NOAA and the National Wildlife Refuge make it a very unique event destination. Add in wild ponies, boating, biking, fishing and rocket launches and you've got one unforgettable setting, all within 3.5 hours of the Washington DC / Baltimore area and within 2 hours of Norfolk International Airport. Make Chincoteague Center the venue for your next special event!
Location: 6155 Community Drive, Chincoteague VA 23336
Phone: 757-336-0614
Email: Click Here
Website: Click Here
Find Us: On Google Maps
---
Farmers and Artisans Markets
---
Festivals
---
Fishing
Some of the best fishing grounds on the Mid-Atlantic Coast are found in the local waters surrounding Chincoteague Island. There are several different ways you can go fishing while vacationing in Chincoteague, including fishing from the surf on Assateague Island, from a public pier on Chincoteague, launching your own boat at a public boat ramp, renting a boat, or on a Charterboat. You can purchase fishing supplies from a local Bait and Tackle Shop. On a Charterboat all your needed fishing supplies are typically included.
Click on the following links for more information:
Charter Boats
Bait and Tackle Shops
Boat Rentals
---
Fitness
---
Hang Gliding



Virginia Hang Gliding
Got Wings? Virginia Hang Gliding offers daily flights from Accomack County Airport. Fly like a giant bird and experience the beauty of the Eastern Shore from 1000 feet to a mile high in the blue sky. Professionally flown by an experienced, licensed hang glider pilot and safely enclosed in a state-of-the-art harness and glider, you will be towed by a specially designed airplane and released to enjoy flight in its truest form. Then you are returned softly and safely to land on wheels back at the FAA secured, modern facilities at Accomack County Airport, which is located only 30 minutes south of Chincoteague. Introductory tandem flights to 1000 feet start at $149. Photos and a video of your flight are also available. Add this to your "Life List" and come fly with us. Check out our website or give us a call.
Phone: 757-346-1134
Website: Click Here
Find Us: On Google Maps
---
Horse Riding Lessons and Trail Rides



Queen Hive Farm
Queen Hive Farm is the Eastern Shore's Royal Place to ride. Located just minutes from Chincoteague, we offer trial rides and riding lessons for both local residents and visitors to the area. Book a riding lessson on one of our gentle, well trained lesson horses - fun for any age! The entire family will enjoy our Trail Rides. No experience necessary! We have a horse for everyone - even Dad. Our trails are very scenic, you might see wild turkeys, ring-necked pheasants, eastern bluebirds, and even white tailed deer. Visitors of all experience levels rate this 5 stars! We look forward to hosting you on our farm.
Phone: 757-990-0017
Website: Click Here

---
Kayak Tours



Assateague Explorer Kayak Tours & Rentals
Escape to a world where wild ponies live in solitude and natural beauty on a kayaking adventure with Assateague Explorer. Guided tours and rentals from our scenic dock at the Assateague Nature Centre, located on Chincoteague - right beside Assateague, the lighthouse and wildlife refuge. Join our guided tour or rent our kayaks to enjoy the stunning waterways. Kayak from our scenic dock and explore the boarders of Assateague's extensive calm western shoreline. Unique island opportunities to experience solitude, nature exploration and wildlife viewing. Paddle through the warm back waters of the barrier island in our premium sea touring or sit on top style kayaks. Search for the famous wild ponies, eagles, shorebirds and other wildlife. No experience necessary. Paddle through creeks, channels, coves or sometimes land on a remote beach at Assateague. A fun way to see great parts of the island with your family & friends.
Location: Chincoteague VA, 23336
Phone: 1-866-PONY SWIM (toll free) or (757) 336-5956
Email: Click Here
Website: Click Here




Snug Harbor Kayak Tours & Rentals
Old Town Canoe & Kayak tours at Snug Harbor Marina on Chincoteague island is the biggest and highly recognized kayak outfitter on the Eastern Shore of Virginia offering premium kayak rentals as well as daily Kayak Eco Tours throughout Chincoteague and Assateague waterways. Our Kayak Rentals and Kayak Eco Tours take off from Snug Harbor Marina which is located conveniently right across the channel from Assateague Island and the Refuge.
Location: 7536 East Side Road, Chincoteague VA 23336
Phone: 757-336-6176
Email: Click Here
Website: Click Here
Find Us: On Google Maps
---
Land Tours



Teaguer's Tump Tours
Local history, legends and lore! Learn about our heritage, our industries long gone and our colorful characters. Tours are led by a multi-generational Teaguer. Ride in the comfort of a passenger van. You will have opportunities to ask plenty of questions. See places you've never been and learn about events that you never knew. Daily land tours Monday through Saturday. Reservations required. Click on the website link below for more information.
Location: Parking lot behind Village Mall on Main St (all the way to the back)
Phone: 757-894-3285
Email: Click Here
Website: Click Here

---
Marine and Coastal Family Programs



Chincoteague Bay Field Station
The Chincoteague Bay Field Station provides outstanding multi-disciplinary, educational and research opportunities that celebrate the rich natural, cultural, economic, and technological resources of the mid-Atlantic Coastal region through field-based and hands-on learning. We offer a variety of programs including summer camps, family programs, kayak tours, photography workshops and much more!
Location: 34001 Mill Dam Road, Wallops Island, VA 23337
Phone: 757-824-5636
Email: Click Here
Website: Click Here
Find Us: On Google Maps
---
Mini-Golf and Amusements



Refuge Golf and Amusements
Toddlers to grownups all find fun and safe things to do at Refuge Golf and Amusements. Our youngest visitors enjoy the kiddie merry-go-round and other rides just their size. The arcade attracts all ages. Challenge your companions to a round of mini-golf or a go-kart race. The karts seat one or two. Or challenge yourself on the Rock Wall. To cool off on hot days you'll appreciate the misters along the mini-golf course, water wars in the bumper boats and enjoy ice cream and funnel cakes in our air-conditioned arcade.
Location: 6528 Maddox Blvd, Chincoteague, VA 23336
Phone: 757-336-5420
Email: Click Here
Website: Click Here
Find Us: On Google Maps
---
Movies
---
Museums and Visitor Centers



Delmarva Discovery Center
Visit the Shore's leading destination for hands-on discovery. Unleash your imagination- and your kids- in this exciting new museum including a 6,000 gallon aquarium, crawl-through beaver lodge, a Native American village, a larger-than-life steamship and many special events throughout the year! Visit our web site or call us at 410-957-9933 for more details.
Location: 2 Market Street, Pocomoke City MD
Phone: 410-957-9933
Email: Click Here
Website: Click Here
Find Us: On Google Maps



Chincoteague Pony Centre
The Chincoteague Pony Centre is the home of the oldest established breeder of Misty family ponies. We have the largest herd of Misty family ponies on the Island. For a wonderful family experience to see and interact with real Chincoteague ponies, this is the best place to visit. Meet the descendants of Misty, (special thanks to the Allen family, owners of Misty's closest relatives). Sit down and enjoy a movie or stroll around the stables. There are many collectibles and antiques to look at or just relax with a cool drink and let life drift by. We offer pony rides, riding lessons, pony day camps and a gift shop filled with unique items including a large collection of Breyer models!
Location: Chicken City Rd., Chincoteague VA
Phone: 757-336-2776 or 757-336-63l3
Email: Click Here
Website: Click Here
Find Us: On Google Maps
---
Outdoor Parks
Chincoteague Island offers several beautiful parks for the enjoyment and recreation of residents and visitors. We highly reccomend taking advantage of these well maintained spaces while your on vacation.
Robert N. Reed Downtown Waterfront Park
Robert N. Reed Downtown Waterfront Park on Main Street located in the heart of downtown offers recreational opportunities and sites for festivals and events. There are currently 10 boat slips available for rent to transient boats that are in excess of 26'to 50' in length. The park is ADA accessible, inclusive of boat slips. For more information on events and accommodations at the Waterfront Park call the Town Office at 757-336-6519 or contact us via e-mail at: kelly@chincoteague-va.gov . Be sure to bring your fishing pole and cast your line off the new fishing pier (no license required). Find on Google Maps
Veteran's Memorial Park
The Veteran's Memorial Park is located on Eastside Road. The park has tennis courts, basketball courts, playground equipment, fishing/crabbing pier, ball field, boat ramp, skate park, pavilion and restrooms. The pavilion may be reserved for groups through a permit issued by the Town for approval. It is recommended that you contact the Town Office, at 757-336-6519, to check availability. There is no fee for reserving the pavilion. The Commonwealth of Virginia enforces a recreational fishing license for the water surrounding Chincoteague. The Town of Chincoteague purchases a fishing license for the Veteran's Memorial Park fishing pier, so an individual license is not required. Find on Google Maps
Donald J. Leonard Park
The Donald J. Leonard Park is located across from the Chincoteague Combined School on North Main Street and protects an open view of Chincoteague Bay with approximately 600 feet of water frontage. Over 2.7 acres of waterfront land has been left in its natural state for the enjoyment of the citizens and visitors alike. Park facilities allow for off street parking up to 10 cars, picnic tables, and kayak access to the Virginia Seaside Water Trail. Find on Google Maps
---
Pony Rides, Lessons, and Shows



Chincoteague Pony Centre
The Chincoteague Pony Centre is the home of the oldest established breeder of Misty family ponies. We have the largest herd of Misty family ponies on the Island. For a wonderful family experience to see and interact with real Chincoteague ponies, this is the best place to visit. Meet the descendants of Misty, (special thanks to the Allen family, owners of Misty's closest relatives). Sit down and enjoy a movie or stroll around the stables. There are many collectibles and antiques to look at or just relax with a cool drink and let life drift by. We offer pony rides, riding lessons, pony day camps and a gift shop filled with unique items including a large collection of Breyer models!
Location: Chicken City Rd., Chincoteague VA
Phone: 757-336-2776 or 757-336-63l3
Email: Click Here
Website: Click Here
Find Us: On Google Maps
---
Public Library



Chincoteague Island Library
The Chincoteague Island Library serves the residents of Chincoteague, our Eastern Shore neighbors, and many seasonal visitors. The library contains current and popular books, audio books, e-books, CDs, a basic reference collection, magazines, DVDs, videos, and newspapers. There are computers for e-mail, word processing, and surfing the net. The Library also offers 24-hour wireless internet connection. We offer a variety of Children's Programs, as well as Adult Programs. The Library Benefit Shop sells great used books for beach reading and much more. Check our web site for hours of operation and more details about the programs we offer.
Location: 4077 Main Street, Chincoteague VA
Phone: 757-336-3460
Email: Click Here
Website: Click Here
Find Us: On Google Maps
---
Scenic Flights



Carter Crabbe Aviation
Scenic viewing from the Chesapeake Bay to the Barrier Islands of the beautiful Eastern Shore... Take a 30 minute sightseeing ride in our FAA approved 4-place aircraft, flown by our professional pilots. Bring your camera and look for property, housing and business. Up to 3 people can come aboard for a 30 minute flight. Extended flights are available. Call now to schedule your flight!
Phone: 757-787-2901
Website: Click Here




Virginia Hang Gliding
Got Wings? From 2000 feet view the natural beauty of the Eastern Shore. See the wild ponies on Assateague Island, the idyllic isolation of historic Tangier Island, and the NASA launch facilities on Wallops Island. Then, from only a few hundred feet, skim along the unspoiled, uninhabited barrier island beaches that line more than fifty miles of Atlantic Coastline, from Maryland to the mouth of the Chesapeake Bay. Our scenic flights depart from Accomack County Airport with its modern, FAA certified and protected facilities, conveniently located in Melfa, VA, just 30 minutes south of Chincoteage. Prices start at $189. Check out our website or give us a call.
Phone: 757-346-1134
Website: Click Here

---
Shopping
---
Surfing
---
Transportation
---
Waterfowl Hunting