Advertise with Chincoteague.com
What Our Customers Say
Click here to read testimonials from our customers.
Why advertise with Chincoteague.com?
The answer is visibility for your business web site.
Increasingly travelers use the internet to plan what they will do each day while on vacation. They do this from home, before they leave for vacation. Therefore, it is critical that your business web site be seen by these potential customers.
Maybe you've put a lot of effort into creating a beautiful web site for your business. Now you need it to be seen by as many potential customers as possible. Chincoteague.com is the solution.
In addition, online advertising is generally much cheaper than print advertising. And the potential return is much greater. This means that advertising online is a wise use of your advertising dollars.
Why is Chincoteague.com the solution for getting my business website seen?
Chincoteague.com has the most viewers of any Chincoteague travel guide website. Your business will definitely be seen by a lot more people if it's on Chincoteague.com.
The following statistics are provided by our web hosting service.
The chart below shows the number of unique visitors per week to the Chincoteague.com web site (this is measured by the number of unique ip address that access the site in a 24 hour period). There is a definite seasonal trend, which peaks in July (the height of tourist season). We consistently get over 30,000 unique viewers per week during the summer months! That is a lot of potential customers!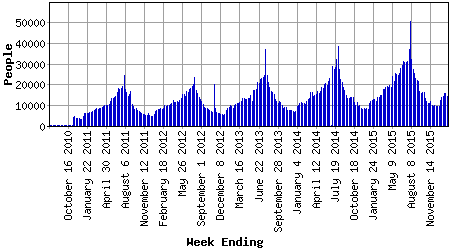 The chart below shows a different measurement. It is a measure of total hits to the Chincoteague.com web site over a month. This also peaks in July, with over 700,000 hits!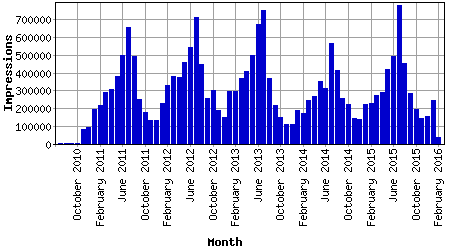 Why does Chincoteague.com get so many viewers?
The key is our search engine ranking. When a traveler sits down at a computer to plan his or her Chincoteague vacation, the first thing they likely do is search for information about Chincoteague in a 'Search Engine'. Chincoteague.com comes up number one in all the major search engines (including Google, Yahoo, Bing, etc.) when some one searches for information about Chincoteague. Our web address also helps. Sometimes people will bypass the search engines and just type "www.chincoteague.com" into their web browser.
Contact Us Today to Advertise With Chincoteague.com
Email: advertise@chincoteague.com
Phone: 757-894-1452
Rates: Click Here