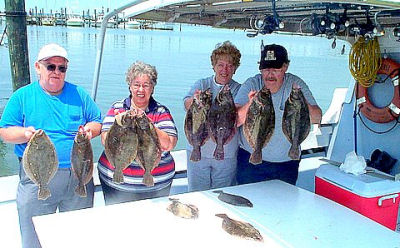 About our fishing charters...
We offer two four hour trips daily on the beautiful Chincoteague Bay. Chincoteague Island offers some of the best fishing on the mid-atlantic seaboard. Morning trips are from 8 AM to 12 PM. Afternoon trips are from 1 PM to 5 PM. Our charters are limited to six passengers, so there is plenty of room for everyone to fish on our spacious vessel. Bring your own refreshments and remember to bring the kids! We depart from Curtis Merritt Harbor at the south end of Main Street.
Contact Us...
Please call us at 757-336-6835 or email us at captlewis@verizon.net.
Our Rates...
Our rates are $60.00 per person and includes bait and tackle.