Chincoteague Island Events
Due to covid-19 many of the events listed below are canceled. Please bare with us as we update the event calendar
Events
---
June 4, 2020
Teen Book Club
Book Club for teens at the Chincoteague Island Library, 4077 Main Street. Book will be chosen in advance. Coordinator is Jan Mensch. For more details: Call 757-336-3460. Visit http://www.chincoteague.com/chincoteagueislandlibrary/programs.html.
Time: 4:00 PM - 5:30 PM
Location: Chincoteague Island Library - 4077 Main Street
Sponsor: Chincoteague Island Library

---
June 6, 2020
Kitchen Gallery is Open
The Kitchen Gallery features art pieces about 144 square inches or less, ready to hang. This is a great opportunity to acquire a piece from a favorite artist as a gift for another or yourself. CCA's Community Center was formerly the cafeteria of the old elementary school and the back room was the kitchen. Now it's a modern space used for classes and a gallery showing regional art. For more details: Visit https://www.chincoteagueca.org/cca-kitchen-gallery.html.
Time: 10:00 AM - 1:00 PM
Location: CCA Community Center for the Arts - 6309 Church Street
Sponsor: Chincoteague Cultural Alliance

---
June 6, 2020
Chincoteague Island Farmers and Artisans Market
Great things from farm, field and bay, plus quality arts, crafts and attic treasures. The market is your farm to table provider. Look for seasonal produce, seafood, eggs, and meats. Also, shop for jewelry, carvings, art, plants, soaps, and other crafts by local artists. For more details: Visit https://www.chincoteagueca.org.
Time: 9:00 AM - 1:00 PM
Location: CCA Community Center for the Arts - 6309 Church Street
Sponsor: Chincoteague Cultural Alliance

---
June 6, 2020
Free Kids' Art Class
Free Art Class for kids held every the 1st Saturday of each Month from 1pm - 2pm. Young kids please bring an adult. All supplies provided. Taught by CCA artist volunteers. For more details: Visit https://www.chincoteagueca.org.
Time: 1:00 PM - 2:00 PM
Location: CCA Community Center for the Arts - 6309 Church Street
Sponsor: Chincoteague Cultural Alliance

---
June 8, 2020
Manna Cafe
A FREE hot lunch EVERY Monday (11am-1pm) in the social hall at Christ United Methodist Church (6253 Church St, Chincoteague). Manna Cafe 501(c)3 nonprofit that serves the community with food, fellowship and love. For more details: Visit https://www.facebook.com/MannaCafeCI/.
Time: 11:00 AM - 1:00 PM
Location: Christ United Methodist Church Social Hall - 6253 Church St
Sponsor: Manna Cafe

---
June 10, 2020
Chincoteague Island Farmers and Artisans Market
Great things from farm, field and bay, plus quality arts, crafts and attic treasures. The market is your farm to table provider. Look for seasonal produce, seafood, eggs, and meats. Also, shop for jewelry, carvings, art, plants, soaps, and other crafts by local artists. For more details: Visit https://www.chincoteagueca.org.
Time: 9:00 AM - 1:00 PM
Location: CCA Community Center for the Arts - 6309 Church Street
Sponsor: Chincoteague Cultural Alliance

---
June 11, 2020
Game Days
YMCA Active Older Adult Program: Game Days. For more details: Call 757-336-6266.
Time: 12:00 PM - 4:00 PM
Location: The David Landsberger Family YMCA - 6395 Maddox Blvd
Sponsor: The David Landsberger Family YMCA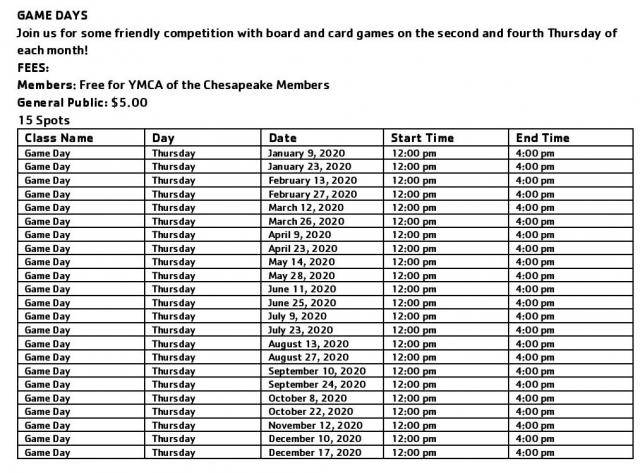 ---
June 13, 2020
Kitchen Gallery is Open
The Kitchen Gallery features art pieces about 144 square inches or less, ready to hang. This is a great opportunity to acquire a piece from a favorite artist as a gift for another or yourself. CCA's Community Center was formerly the cafeteria of the old elementary school and the back room was the kitchen. Now it's a modern space used for classes and a gallery showing regional art. For more details: Visit https://www.chincoteagueca.org/cca-kitchen-gallery.html.
Time: 10:00 AM - 1:00 PM
Location: CCA Community Center for the Arts - 6309 Church Street
Sponsor: Chincoteague Cultural Alliance

---
June 13, 2020
Second Saturday Artful Flea Market
An amazing array of arts, crafts, antiques, collectibles and attic treasures. Also pick up fresh local produce and seafood at the the same location until 1:00 PM. For more details: Visit https://www.chincoteagueca.org.
Time: 9:00 AM - 1:00 PM
Location: CCA Community Center for the Arts - 6309 Church Street
Sponsor: Chincoteague Cultural Alliance

---
June 13, 2020
Chincoteague Island Farmers and Artisans Market
Great things from farm, field and bay, plus quality arts, crafts and attic treasures. The market is your farm to table provider. Look for seasonal produce, seafood, eggs, and meats. Also, shop for jewelry, carvings, art, plants, soaps, and other crafts by local artists. For more details: Visit https://www.chincoteagueca.org.
Time: 9:00 AM - 1:00 PM
Location: CCA Community Center for the Arts - 6309 Church Street
Sponsor: Chincoteague Cultural Alliance

---
June 15, 2020
Manna Cafe
A FREE hot lunch EVERY Monday (11am-1pm) in the social hall at Christ United Methodist Church (6253 Church St, Chincoteague). Manna Cafe 501(c)3 nonprofit that serves the community with food, fellowship and love. For more details: Visit https://www.facebook.com/MannaCafeCI/.
Time: 11:00 AM - 1:00 PM
Location: Christ United Methodist Church Social Hall - 6253 Church St
Sponsor: Manna Cafe

---
June 17, 2020
Chincoteague Island Farmers and Artisans Market
Great things from farm, field and bay, plus quality arts, crafts and attic treasures. The market is your farm to table provider. Look for seasonal produce, seafood, eggs, and meats. Also, shop for jewelry, carvings, art, plants, soaps, and other crafts by local artists. For more details: Visit https://www.chincoteagueca.org.
Time: 9:00 AM - 1:00 PM
Location: CCA Community Center for the Arts - 6309 Church Street
Sponsor: Chincoteague Cultural Alliance

---
June 19, 2020
Artsy Activities
We welcome our Active Older Adults to join us in our monthly craft program, held on the third Friday of each month. Program includes all supplies needed, instruction and take home of the themed craft. Crafts can be easily adjusted to all skill levels; therefore everyone is invited to attend! These will be held at the Island Community House. Registration is required. 2/21: Rose Candle Holders; 3/20: Button Trees on Canvas; 4/17: Marbled Mugs; 5/15: Paper Flowers; 6/19: Plastic Spoon Garden Markers; 7/17: Paint Stick Beach Flags; 8/21: Glass Suncatchers; 9/18: Doily Dreamcatchers; 10/16: Toilet Paper Pumpkins; 11/20: Scented Ornaments; and 12/18: Pumpkin Seed Poinsettias. Fees: Members, $10; general public, $15. For more details: Visit https://www.facebook.com/events/2490897981131389/.
Time: 1:00 PM - 4:00 PM
Location: Island Community House - 6246 Mumford Street
Sponsor: David Landsberger Family YMCA

---
June 20, 2020
Kitchen Gallery is Open
The Kitchen Gallery features art pieces about 144 square inches or less, ready to hang. This is a great opportunity to acquire a piece from a favorite artist as a gift for another or yourself. CCA's Community Center was formerly the cafeteria of the old elementary school and the back room was the kitchen. Now it's a modern space used for classes and a gallery showing regional art. For more details: Visit https://www.chincoteagueca.org/cca-kitchen-gallery.html.
Time: 10:00 AM - 1:00 PM
Location: CCA Community Center for the Arts - 6309 Church Street
Sponsor: Chincoteague Cultural Alliance

---
June 20, 2020
Island Coffeehouse
The Coffeehouse features musical performances, as well as occasional spoken word acts and visual art. Doors open 6:30 pm. Performances begin at 7:00 pm. Admission is $8 for adults, $5 for students (18 and under). Homemade sweets, snacks, coffee, beer, wine and soft drinks available for purchase during the event. Everyone is Welcome! For more details: Visit https://www.chincoteagueca.org/coffeehouse.html.
Time: 6:30 PM
Location: CCA Community Center for the Arts - 6309 Church Street
Sponsor: Chincoteague Cultural Alliance

---
June 20, 2020
Chincoteague Island Farmers and Artisans Market
Great things from farm, field and bay, plus quality arts, crafts and attic treasures. The market is your farm to table provider. Look for seasonal produce, seafood, eggs, and meats. Also, shop for jewelry, carvings, art, plants, soaps, and other crafts by local artists. For more details: Visit https://www.chincoteagueca.org.
Time: 9:00 AM - 1:00 PM
Location: CCA Community Center for the Arts - 6309 Church Street
Sponsor: Chincoteague Cultural Alliance

---
June 21, 2020
Shop the Dock
Shop the Dock is a local vendor market where each vendor carries something different than the next. Featuring live music, free crafts for children, outdoor games, and a chance to win a giveaway basket for each purchasing customer. For more details: Visit https://chincoteaguemerchants.com.
Time: 12:00 PM - 4:00 PM
Location: Robert Reed Downtown Waterfront Park
Sponsor: The Main Street Merchants

---
June 22, 2020
Manna Cafe
A FREE hot lunch EVERY Monday (11am-1pm) in the social hall at Christ United Methodist Church (6253 Church St, Chincoteague). Manna Cafe 501(c)3 nonprofit that serves the community with food, fellowship and love. For more details: Visit https://www.facebook.com/MannaCafeCI/.
Time: 11:00 AM - 1:00 PM
Location: Christ United Methodist Church Social Hall - 6253 Church St
Sponsor: Manna Cafe

---
June 24, 2020
Chincoteague Island Farmers and Artisans Market
Great things from farm, field and bay, plus quality arts, crafts and attic treasures. The market is your farm to table provider. Look for seasonal produce, seafood, eggs, and meats. Also, shop for jewelry, carvings, art, plants, soaps, and other crafts by local artists. For more details: Visit https://www.chincoteagueca.org.
Time: 9:00 AM - 1:00 PM
Location: CCA Community Center for the Arts - 6309 Church Street
Sponsor: Chincoteague Cultural Alliance

---
June 25, 2020
Game Days
YMCA Active Older Adult Program: Game Days. For more details: Call 757-336-6266.
Time: 12:00 PM - 4:00 PM
Location: The David Landsberger Family YMCA - 6395 Maddox Blvd
Sponsor: The David Landsberger Family YMCA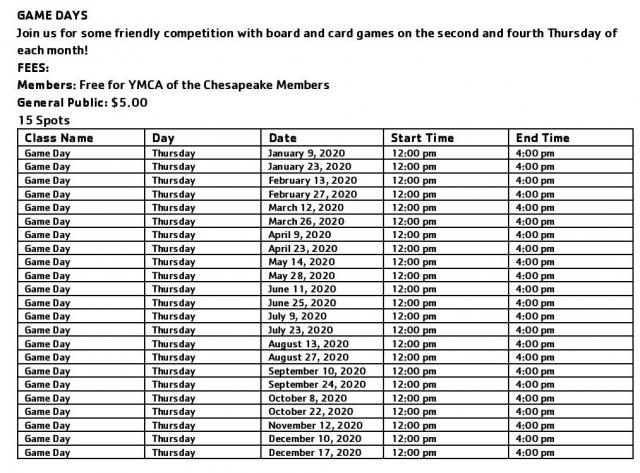 ---
June 25, 2020
Cinema in the Park
Free films outdoors under the stars in Robert Reed Downtown Waterfront Park during the summer months. Bring a chair or blanket. Films begin at dusk. Enjoy popcorn and cold drinks at old-fashioned prices! In case of rain, films are shown at the CCA Center for the Arts (6309 Church Street). The film on Thursday, 6/25 will be "The Man Who Would be King". For more details: Visit https://www.chincoteagueca.org/summer-cinema-series.html.
Location: Robert Reed Downtown Waterfront Park
Sponsor: Chincoteague Cultural Alliance

---
June 26, 2020
Story Swap
Have you been to a Story Swap? You just never know what kind of story you'll hear... or... maybe you'll end up telling one yourself! Storytelling is a powerful way to connect with and learn about other people. The Chincoteague Storytelling Guild is making connections in our community, and we invite YOU to join us! We hold Story Swaps from March through October (usually on the last Friday of the month) featuring informal and off-the-cuff storytelling, and all are welcome to participate. The Chincoteague Storytelling Guild is an activity of the Chincoteague Cultural Alliance (CCA), in partnership with the Chincoteague Island Library. CCA continues to work with the Virginia Storytelling Alliance to advance the art of storytelling in all its forms. For more details: Email fluffypopsicle@gmail.com. Visit https://www.chincoteagueca.org/chincoteague-storytelling-guild.html.
Time: 6:30 PM
Location: CCA Community Center for the Arts - 6309 Church Street
Sponsor: Chincoteague Cultural Alliance

---
June 27, 2020
Kitchen Gallery is Open
The Kitchen Gallery features art pieces about 144 square inches or less, ready to hang. This is a great opportunity to acquire a piece from a favorite artist as a gift for another or yourself. CCA's Community Center was formerly the cafeteria of the old elementary school and the back room was the kitchen. Now it's a modern space used for classes and a gallery showing regional art. For more details: Visit https://www.chincoteagueca.org/cca-kitchen-gallery.html.
Time: 10:00 AM - 1:00 PM
Location: CCA Community Center for the Arts - 6309 Church Street
Sponsor: Chincoteague Cultural Alliance

---
June 27, 2020
Chincoteague Island Farmers and Artisans Market
Great things from farm, field and bay, plus quality arts, crafts and attic treasures. The market is your farm to table provider. Look for seasonal produce, seafood, eggs, and meats. Also, shop for jewelry, carvings, art, plants, soaps, and other crafts by local artists. For more details: Visit https://www.chincoteagueca.org.
Time: 9:00 AM - 1:00 PM
Location: CCA Community Center for the Arts - 6309 Church Street
Sponsor: Chincoteague Cultural Alliance

---
June 29, 2020
Manna Cafe
A FREE hot lunch EVERY Monday (11am-1pm) in the social hall at Christ United Methodist Church (6253 Church St, Chincoteague). Manna Cafe 501(c)3 nonprofit that serves the community with food, fellowship and love. For more details: Visit https://www.facebook.com/MannaCafeCI/.
Time: 11:00 AM - 1:00 PM
Location: Christ United Methodist Church Social Hall - 6253 Church St
Sponsor: Manna Cafe

---
July 1, 2020
Chincoteague Island Farmers and Artisans Market
Great things from farm, field and bay, plus quality arts, crafts and attic treasures. The market is your farm to table provider. Look for seasonal produce, seafood, eggs, and meats. Also, shop for jewelry, carvings, art, plants, soaps, and other crafts by local artists. For more details: Visit https://www.chincoteagueca.org.
Time: 9:00 AM - 1:00 PM
Location: CCA Community Center for the Arts - 6309 Church Street
Sponsor: Chincoteague Cultural Alliance

---
July 2 - July 4, 2020
95th Annual Chincoteague Volunteer Fire Company Carnival
Rides, Games, Fun, and Food - Chincoteague Island Style! All your favorite Carnival eats available for purchase - Pony Fries, Pizza, Clam and Oyster Fritters, and much more. Rides and games for all ages. Live entertainment on stage. Try your luck at BINGO. All proceeds benefit the Chincoteague Volunteer Fire Company. Dates include July 2-4 (with fireworks July 4 at 10pm), July 10-11, July 17-18, July 24-25, July 27-August 1, and August 7-8.
Time: 7:00 PM - 11:00 PM
Location: Chincoteague Carnival Grounds (3648 Main Street)
Sponsor: Chincoteague Volunteer Fire Company

---
July 3 - July 5, 2020
2nd Annual Freedom Festival
An Explosion of Arts & Crafts! Vendors from all over the Eastern Shore are coming out to display their products at this 2nd Annual Center sponsored festival. Come enjoy the fun, rain or shine! Bring the whole family. $3 one-day admission, $5 two-day admission, kids under 12 FREE! Vendors contact the Chincoteague Center for booth pricing and availability. Friday, July 3 from 2pm - 7pm. Saturday, July 4 from 9am - 4pm. Sunday, July 5 from 9am - 4pm. For more details: Visit https://www.thechincoteaguecenter.com/freedom-festival.
Location: Chincoteague Center - 6155 Community Drive
Sponsor: Chincoteague Center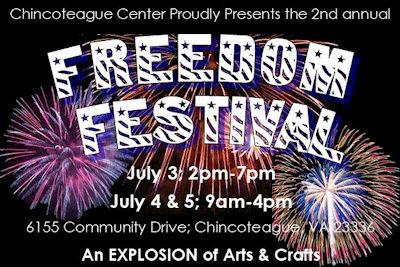 ---
July 4, 2020
Kitchen Gallery is Open
The Kitchen Gallery features art pieces about 144 square inches or less, ready to hang. This is a great opportunity to acquire a piece from a favorite artist as a gift for another or yourself. CCA's Community Center was formerly the cafeteria of the old elementary school and the back room was the kitchen. Now it's a modern space used for classes and a gallery showing regional art. For more details: Visit https://www.chincoteagueca.org/cca-kitchen-gallery.html.
Time: 10:00 AM - 1:00 PM
Location: CCA Community Center for the Arts - 6309 Church Street
Sponsor: Chincoteague Cultural Alliance

---
July 4, 2020
Chincoteague Island Farmers and Artisans Market
Great things from farm, field and bay, plus quality arts, crafts and attic treasures. The market is your farm to table provider. Look for seasonal produce, seafood, eggs, and meats. Also, shop for jewelry, carvings, art, plants, soaps, and other crafts by local artists. For more details: Visit https://www.chincoteagueca.org.
Time: 9:00 AM - 1:00 PM
Location: CCA Community Center for the Arts - 6309 Church Street
Sponsor: Chincoteague Cultural Alliance

---
July 4, 2020
Free Kids' Art Class
Free Art Class for kids held every the 1st Saturday of each Month from 1pm - 2pm. Young kids please bring an adult. All supplies provided. Taught by CCA artist volunteers. For more details: Visit https://www.chincoteagueca.org.
Time: 1:00 PM - 2:00 PM
Location: CCA Community Center for the Arts - 6309 Church Street
Sponsor: Chincoteague Cultural Alliance

---
July 4, 2020
Independence Day Fireworks Celebration
Fireworks will take place at 10pm from the carnival grounds.
Time: 10:00 PM
Location: Chincoteague Carnival Grounds (3648 Main Street)
Sponsor: Chincoteague Volunteer Fire Company

---
July 6, 2020
Manna Cafe
A FREE hot lunch EVERY Monday (11am-1pm) in the social hall at Christ United Methodist Church (6253 Church St, Chincoteague). Manna Cafe 501(c)3 nonprofit that serves the community with food, fellowship and love. For more details: Visit https://www.facebook.com/MannaCafeCI/.
Time: 11:00 AM - 1:00 PM
Location: Christ United Methodist Church Social Hall - 6253 Church St
Sponsor: Manna Cafe

---
July 8, 2020
Conversational Spanish Class
YMCA Active Older Adult Program: Conversational Spanish Class. 5:45 pm - 6:45 pm. For more details: Call 757-336-6266.
Location: The David Landsberger Family YMCA - 6395 Maddox Blvd
Sponsor: The David Landsberger Family YMCA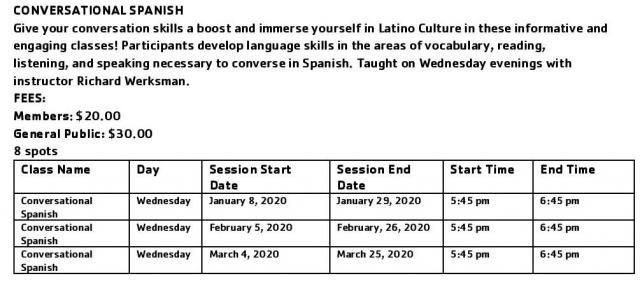 ---
July 8, 2020
Conversational Arabic Class
YMCA Active Older Adult Program: Conversational Arabic Class
Time: 4:30 PM - 5:30 PM
Location: The David Landsberger Family YMCA
Sponsor: The David Landsberger Family YMCA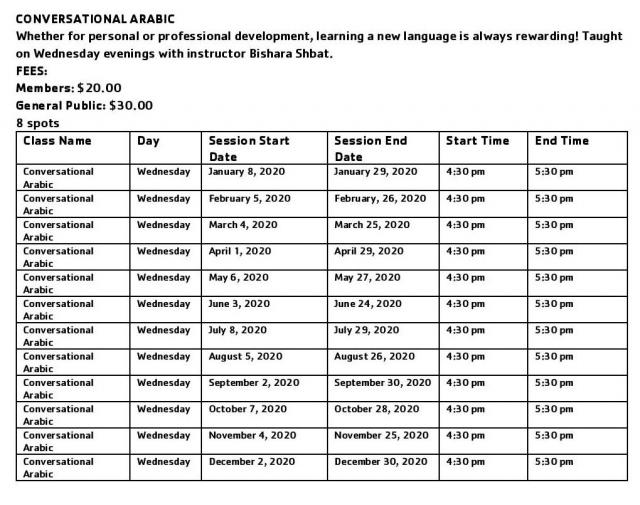 ---
July 8, 2020
Chincoteague Island Farmers and Artisans Market
Great things from farm, field and bay, plus quality arts, crafts and attic treasures. The market is your farm to table provider. Look for seasonal produce, seafood, eggs, and meats. Also, shop for jewelry, carvings, art, plants, soaps, and other crafts by local artists. For more details: Visit https://www.chincoteagueca.org.
Time: 9:00 AM - 1:00 PM
Location: CCA Community Center for the Arts - 6309 Church Street
Sponsor: Chincoteague Cultural Alliance

---
July 9, 2020
Game Days
YMCA Active Older Adult Program: Game Days. For more details: Call 757-336-6266.
Time: 12:00 PM - 4:00 PM
Location: The David Landsberger Family YMCA - 6395 Maddox Blvd
Sponsor: The David Landsberger Family YMCA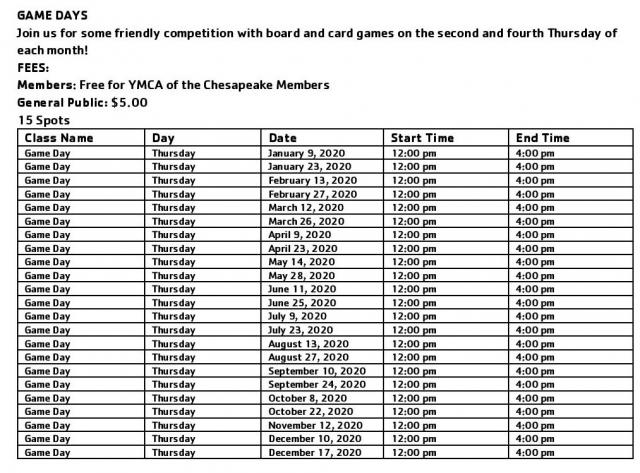 ---
July 9, 2020
Cinema in the Park
Free films outdoors under the stars in Robert Reed Downtown Waterfront Park during the summer months. Bring a chair or blanket. Films begin at dusk. Enjoy popcorn and cold drinks at old-fashioned prices! In case of rain, films are shown at the CCA Center for the Arts (6309 Church Street). The film on Thursday, 7/9 will be "Big". For more details: Visit https://www.chincoteagueca.org/summer-cinema-series.html.
Location: Robert Reed Downtown Waterfront Park
Sponsor: Chincoteague Cultural Alliance

---
July 10 - July 11, 2020
95th Annual Chincoteague Volunteer Fire Company Carnival
Rides, Games, Fun, and Food - Chincoteague Island Style! All your favorite Carnival eats available for purchase - Pony Fries, Pizza, Clam and Oyster Fritters, and much more. Rides and games for all ages. Live entertainment on stage. Try your luck at BINGO. All proceeds benefit the Chincoteague Volunteer Fire Company. Dates include July 2-4 (with fireworks July 4 at 10pm), July 10-11, July 17-18, July 24-25, July 27-August 1, and August 7-8.
Time: 7:00 PM - 11:00 PM
Location: Chincoteague Carnival Grounds (3648 Main Street)
Sponsor: Chincoteague Volunteer Fire Company

---
July 11, 2020
Kitchen Gallery is Open
The Kitchen Gallery features art pieces about 144 square inches or less, ready to hang. This is a great opportunity to acquire a piece from a favorite artist as a gift for another or yourself. CCA's Community Center was formerly the cafeteria of the old elementary school and the back room was the kitchen. Now it's a modern space used for classes and a gallery showing regional art. For more details: Visit https://www.chincoteagueca.org/cca-kitchen-gallery.html.
Time: 10:00 AM - 1:00 PM
Location: CCA Community Center for the Arts - 6309 Church Street
Sponsor: Chincoteague Cultural Alliance

---
July 11, 2020
Second Saturday Artful Flea Market
An amazing array of arts, crafts, antiques, collectibles and attic treasures. Also pick up fresh local produce and seafood at the the same location until 1:00 PM. For more details: Visit https://www.chincoteagueca.org.
Time: 9:00 AM - 1:00 PM
Location: CCA Community Center for the Arts - 6309 Church Street
Sponsor: Chincoteague Cultural Alliance

---
July 11, 2020
Chincoteague Island Farmers and Artisans Market
Great things from farm, field and bay, plus quality arts, crafts and attic treasures. The market is your farm to table provider. Look for seasonal produce, seafood, eggs, and meats. Also, shop for jewelry, carvings, art, plants, soaps, and other crafts by local artists. For more details: Visit https://www.chincoteagueca.org.
Time: 9:00 AM - 1:00 PM
Location: CCA Community Center for the Arts - 6309 Church Street
Sponsor: Chincoteague Cultural Alliance

---
July 13, 2020
Manna Cafe
A FREE hot lunch EVERY Monday (11am-1pm) in the social hall at Christ United Methodist Church (6253 Church St, Chincoteague). Manna Cafe 501(c)3 nonprofit that serves the community with food, fellowship and love. For more details: Visit https://www.facebook.com/MannaCafeCI/.
Time: 11:00 AM - 1:00 PM
Location: Christ United Methodist Church Social Hall - 6253 Church St
Sponsor: Manna Cafe

---
July 15, 2020
Chincoteague Island Farmers and Artisans Market
Great things from farm, field and bay, plus quality arts, crafts and attic treasures. The market is your farm to table provider. Look for seasonal produce, seafood, eggs, and meats. Also, shop for jewelry, carvings, art, plants, soaps, and other crafts by local artists. For more details: Visit https://www.chincoteagueca.org.
Time: 9:00 AM - 1:00 PM
Location: CCA Community Center for the Arts - 6309 Church Street
Sponsor: Chincoteague Cultural Alliance

---
July 17, 2020
Artsy Activities
We welcome our Active Older Adults to join us in our monthly craft program, held on the third Friday of each month. Program includes all supplies needed, instruction and take home of the themed craft. Crafts can be easily adjusted to all skill levels; therefore everyone is invited to attend! These will be held at the Island Community House. Registration is required. 2/21: Rose Candle Holders; 3/20: Button Trees on Canvas; 4/17: Marbled Mugs; 5/15: Paper Flowers; 6/19: Plastic Spoon Garden Markers; 7/17: Paint Stick Beach Flags; 8/21: Glass Suncatchers; 9/18: Doily Dreamcatchers; 10/16: Toilet Paper Pumpkins; 11/20: Scented Ornaments; and 12/18: Pumpkin Seed Poinsettias. Fees: Members, $10; general public, $15. For more details: Visit https://www.facebook.com/events/2490897981131389/.
Time: 1:00 PM - 4:00 PM
Location: Island Community House - 6246 Mumford Street
Sponsor: David Landsberger Family YMCA

---
July 17 - July 18, 2020
95th Annual Chincoteague Volunteer Fire Company Carnival
Rides, Games, Fun, and Food - Chincoteague Island Style! All your favorite Carnival eats available for purchase - Pony Fries, Pizza, Clam and Oyster Fritters, and much more. Rides and games for all ages. Live entertainment on stage. Try your luck at BINGO. All proceeds benefit the Chincoteague Volunteer Fire Company. Dates include July 2-4 (with fireworks July 4 at 10pm), July 10-11, July 17-18, July 24-25, July 27-August 1, and August 7-8.
Time: 7:00 PM - 11:00 PM
Location: Chincoteague Carnival Grounds (3648 Main Street)
Sponsor: Chincoteague Volunteer Fire Company

---
July 18, 2020
Kitchen Gallery is Open
The Kitchen Gallery features art pieces about 144 square inches or less, ready to hang. This is a great opportunity to acquire a piece from a favorite artist as a gift for another or yourself. CCA's Community Center was formerly the cafeteria of the old elementary school and the back room was the kitchen. Now it's a modern space used for classes and a gallery showing regional art. For more details: Visit https://www.chincoteagueca.org/cca-kitchen-gallery.html.
Time: 10:00 AM - 1:00 PM
Location: CCA Community Center for the Arts - 6309 Church Street
Sponsor: Chincoteague Cultural Alliance

---
July 18, 2020
Island Coffeehouse
The Coffeehouse features musical performances, as well as occasional spoken word acts and visual art. Doors open 6:30 pm. Performances begin at 7:00 pm. Admission is $8 for adults, $5 for students (18 and under). Homemade sweets, snacks, coffee, beer, wine and soft drinks available for purchase during the event. Everyone is Welcome! For more details: Visit https://www.chincoteagueca.org/coffeehouse.html.
Time: 6:30 PM
Location: CCA Community Center for the Arts - 6309 Church Street
Sponsor: Chincoteague Cultural Alliance

---
July 18, 2020
Chincoteague Island Farmers and Artisans Market
Great things from farm, field and bay, plus quality arts, crafts and attic treasures. The market is your farm to table provider. Look for seasonal produce, seafood, eggs, and meats. Also, shop for jewelry, carvings, art, plants, soaps, and other crafts by local artists. For more details: Visit https://www.chincoteagueca.org.
Time: 9:00 AM - 1:00 PM
Location: CCA Community Center for the Arts - 6309 Church Street
Sponsor: Chincoteague Cultural Alliance

---
July 20, 2020
Manna Cafe
A FREE hot lunch EVERY Monday (11am-1pm) in the social hall at Christ United Methodist Church (6253 Church St, Chincoteague). Manna Cafe 501(c)3 nonprofit that serves the community with food, fellowship and love. For more details: Visit https://www.facebook.com/MannaCafeCI/.
Time: 11:00 AM - 1:00 PM
Location: Christ United Methodist Church Social Hall - 6253 Church St
Sponsor: Manna Cafe

---
July 22, 2020
Chincoteague Island Farmers and Artisans Market
Great things from farm, field and bay, plus quality arts, crafts and attic treasures. The market is your farm to table provider. Look for seasonal produce, seafood, eggs, and meats. Also, shop for jewelry, carvings, art, plants, soaps, and other crafts by local artists. For more details: Visit https://www.chincoteagueca.org.
Time: 9:00 AM - 1:00 PM
Location: CCA Community Center for the Arts - 6309 Church Street
Sponsor: Chincoteague Cultural Alliance

---
July 23 - July 25, 2020
33rd Annual Chincoteague Island Blueberry Festival
The largest Fine Arts & Crafts Event on the Eastern Shore of Virginia with 100+ fine artists and crafters from 12 states who provide a Christmas in July shopping extravaganza. Non-Stop Family-Friendly Entertainment. Blueberries, Blueberries, Blueberries. Held at the beautiful Chincoteague Center on Chincoteague Island on the Friday, Saturday and Sunday prior to the Chincoteague Pony Swim, from 9:00 am to 4:30 pm each day. For more details: Call 757-894-2334. Email samserio@esva.net. Visit http://www.chincoteagueblueberryfestival.com/.
Time: 9:00 AM - 4:30 PM
Location: Chincoteague Center - 6155 Community Drive

---
July 23, 2020
Game Days
YMCA Active Older Adult Program: Game Days. For more details: Call 757-336-6266.
Time: 12:00 PM - 4:00 PM
Location: The David Landsberger Family YMCA - 6395 Maddox Blvd
Sponsor: The David Landsberger Family YMCA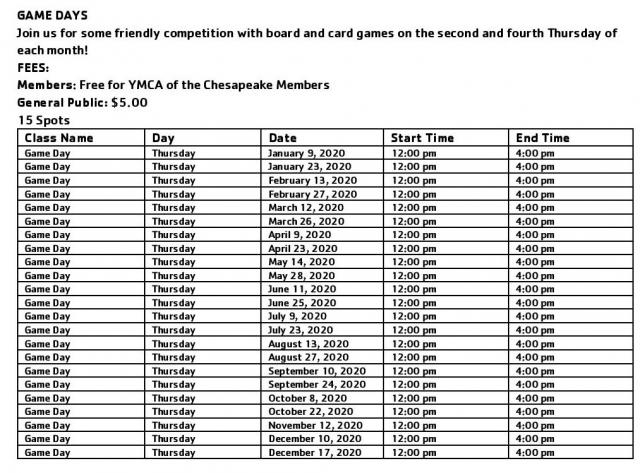 ---
July 23, 2020
Cinema in the Park
Free films outdoors under the stars in Robert Reed Downtown Waterfront Park during the summer months. Bring a chair or blanket. Films begin at dusk. Enjoy popcorn and cold drinks at old-fashioned prices! In case of rain, films are shown at the CCA Center for the Arts (6309 Church Street). The film on Thursday, 7/23 will be "Homeward Bound". For more details: Visit https://www.chincoteagueca.org/summer-cinema-series.html.
Location: Robert Reed Downtown Waterfront Park
Sponsor: Chincoteague Cultural Alliance

---
July 24, 2020
NASA Astronomy and Night Sky Summer Series
NASA's Wallops Flight Facility, the Delmarva Space Sciences Foundation and Assateague Island National Seashore invite you to discover the night sky from Assateague Island. Start your evening at the Herbert H Bateman Education Center Auditorium for NASA's Astronomy 101 presentation at 7:30 pm and 8:00 pm. Space is limited to 140 per session. Then head to the beach (parking lot #1) to join the Delmarva Space Sciences Foundation and Assateague Island National Seashore for stargazing with telescopes and binoculars from 8:30 pm - 9:45 pm. For more details: Visit https://www.nasa.gov/content/wallops-visitor-center/special-events.
Location: Chincoteague National Wildlife Refuge
Sponsor: NASA Wallops Flight Facility

---
July 24 - July 25, 2020
95th Annual Chincoteague Volunteer Fire Company Carnival
Rides, Games, Fun, and Food - Chincoteague Island Style! All your favorite Carnival eats available for purchase - Pony Fries, Pizza, Clam and Oyster Fritters, and much more. Rides and games for all ages. Live entertainment on stage. Try your luck at BINGO. All proceeds benefit the Chincoteague Volunteer Fire Company. Dates include July 2-4 (with fireworks July 4 at 10pm), July 10-11, July 17-18, July 24-25, July 27-August 1, and August 7-8.
Time: 7:00 PM - 11:00 PM
Location: Chincoteague Carnival Grounds (3648 Main Street)
Sponsor: Chincoteague Volunteer Fire Company

---
July 25, 2020
Kitchen Gallery is Open
The Kitchen Gallery features art pieces about 144 square inches or less, ready to hang. This is a great opportunity to acquire a piece from a favorite artist as a gift for another or yourself. CCA's Community Center was formerly the cafeteria of the old elementary school and the back room was the kitchen. Now it's a modern space used for classes and a gallery showing regional art. For more details: Visit https://www.chincoteagueca.org/cca-kitchen-gallery.html.
Time: 10:00 AM - 1:00 PM
Location: CCA Community Center for the Arts - 6309 Church Street
Sponsor: Chincoteague Cultural Alliance

---
July 25, 2020
Chincoteague Island Farmers and Artisans Market
Great things from farm, field and bay, plus quality arts, crafts and attic treasures. The market is your farm to table provider. Look for seasonal produce, seafood, eggs, and meats. Also, shop for jewelry, carvings, art, plants, soaps, and other crafts by local artists. For more details: Visit https://www.chincoteagueca.org.
Time: 9:00 AM - 1:00 PM
Location: CCA Community Center for the Arts - 6309 Church Street
Sponsor: Chincoteague Cultural Alliance

---
July 25, 2020
Southern Herd Roundup
Pony Swim week festivities kick off with the Southern Herd Roundup! The weekend prior to Wednesday's Pony Swim, "Saltwater Cowboys" on horseback will begin to round up the approximately 150 adult wild ponies that live on Assateague Island, along with the 60 to 70 foals that were born in the spring. About 50 adult ponies and their foals live on the southern end of Assateague Island. The Saltwater Cowboys will begin rounding them up into the Southern Corral Saturday afternoon beginning at about 4:30 pm. The Southern Corral is located on Assateague, just off the road that leads to the beach, and is accessible to the public. The public can view the Ponies in the Southern Corral all day Sunday, Monday, and Tuesday. For more details: Visit www.chincoteague.com/pony_swim_guide.html.
Time: 4:30 PM
Location: South Corral (along side the beach road on Assateague Island)
Sponsor: Chincoteague Volunteer Fire Company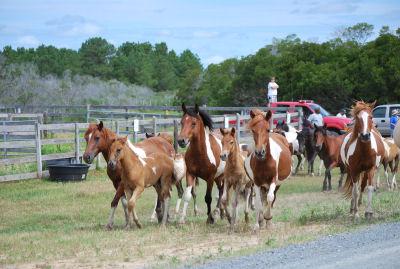 ---
July 26, 2020
Northern Herd Roundup
About 100 adult ponies and their foals reside a little further north on the Assateague Island, and will be herded into the Northen Corral, Sunday morning beginning at about 6:00 am. The Northern Corral is not accessible to the public during the roundup (though you may walk to the gate on the service road). Special bus tours are sometimes offered to go the Northern Corral after the roundup. Call 757-336-3696 to inquire about potential bus tours. For more details: Visit www.chincoteague.com/pony_swim_guide.html.
Time: 6:00 AM
Location: North Corral on Assateague Island
Sponsor: Chincoteague Volunteer Fire Company

---
July 27, 2020
Manna Cafe
A FREE hot lunch EVERY Monday (11am-1pm) in the social hall at Christ United Methodist Church (6253 Church St, Chincoteague). Manna Cafe 501(c)3 nonprofit that serves the community with food, fellowship and love. For more details: Visit https://www.facebook.com/MannaCafeCI/.
Time: 11:00 AM - 1:00 PM
Location: Christ United Methodist Church Social Hall - 6253 Church St
Sponsor: Manna Cafe

---
July 27, 2020
The Pony Beach Walk
On Monday, at day break, the Saltwater Cowboys will move the ponies from the Northern Corral out to the beachfront then south along the Atlantic Ocean, and join them with the ponies in the Southern Corral. The Chincoteague National Wildlife Refuge will open at 5:00am on this day. To view the Ponies walk down the beach we recommend driving to the beachfront and parking in the recreational beach parking area. Bring snacks, water, bug spray and cameras to enjoy this special event. Bicyclists and hikers can use Swan Cove Trail to access the beach. For more details: Visit www.chincoteague.com/pony_swim_guide.html.
Time: 5:00 AM
Location: Assateague Beach
Sponsor: Chincoteague Volunteer Fire Company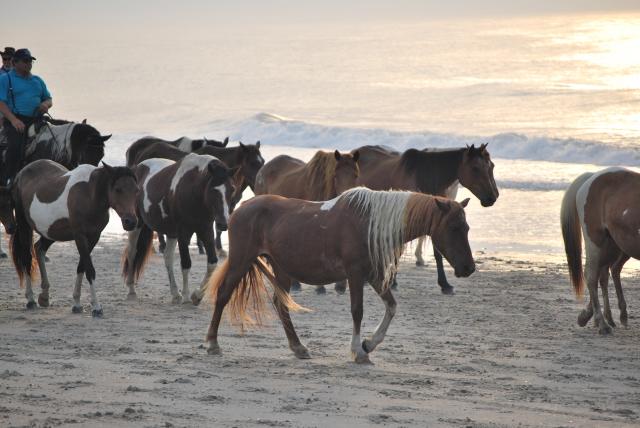 ---
July 27 - August 1, 2020
95th Annual Chincoteague Volunteer Fire Company Carnival
Rides, Games, Fun, and Food - Chincoteague Island Style! All your favorite Carnival eats available for purchase - Pony Fries, Pizza, Clam and Oyster Fritters, and much more. Rides and games for all ages. Live entertainment on stage. Try your luck at BINGO. All proceeds benefit the Chincoteague Volunteer Fire Company. Dates include July 2-4 (with fireworks July 4 at 10pm), July 10-11, July 17-18, July 24-25, July 27-August 1, and August 7-8.
Time: 7:00 PM - 11:00 PM
Location: Chincoteague Carnival Grounds (3648 Main Street)
Sponsor: Chincoteague Volunteer Fire Company

---
July 28, 2020
Chincoteague Island Farmers and Artisans Market
Great things from farm, field and bay, plus quality arts, crafts and attic treasures. The market is your farm to table provider. Look for seasonal produce, seafood, eggs, and meats. Also, shop for jewelry, carvings, art, plants, soaps, and other crafts by local artists. For more details: Visit https://www.chincoteagueca.org.
Time: 9:00 AM - 1:00 PM
Location: CCA Community Center for the Arts - 6309 Church Street
Sponsor: Chincoteague Cultural Alliance

---
July 28, 2020
Pony Vet Checks
All of the Ponies will be checked by a vet and can be viewed by the public in the Southern Corral on Assateague. Park in the Woodland Trail Parking Lot to access the Southern Corral. For more details: Visit www.chincoteague.com/pony_swim_guide.html.
Location: South Corral (along side the beach road on Assateague Island)
Sponsor: Chincoteague Volunteer Fire Company

---
July 29, 2020
95th Annual Chincoteague Pony Swim
On Wednesday, the Saltwater Cowboys will swim the ponies from Assateague Island to Chincoteague Island. The Ponies will swim across the Assateague Channel and come ashore on the east side of Chincoteague Island. After the swim, the ponies rest for about 45 minutes. Then the Saltwater Cowboys will "parade" the ponies down Main Street, to the carnival grounds where the auction will be held Thursday morning. Check our Pony Swim Guide for all the details. For more details: Visit www.chincoteague.com/pony_swim_guide.html.
Location: South Corral (along side the beach road on Assateague Island)
Sponsor: Chincoteague Volunteer Fire Company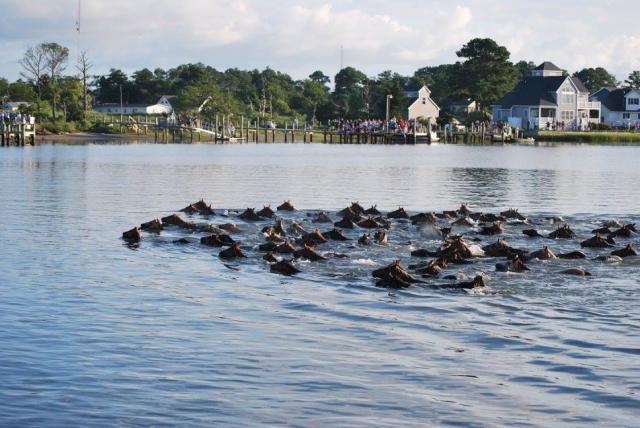 ---
July 30, 2020
Pony Auction
The auction begins at 8 am. The auction is typically very crowded. We suggest you get there early to get a seat. For more details: Visit www.chincoteague.com/pony_swim_guide.html.
Time: 8:00 AM
Location: Chincoteague Carnival Grounds (3648 Main Street)
Sponsor: Chincoteague Volunteer Fire Company

---
July 31, 2020
Story Swap
Have you been to a Story Swap? You just never know what kind of story you'll hear... or... maybe you'll end up telling one yourself! Storytelling is a powerful way to connect with and learn about other people. The Chincoteague Storytelling Guild is making connections in our community, and we invite YOU to join us! We hold Story Swaps from March through October (usually on the last Friday of the month) featuring informal and off-the-cuff storytelling, and all are welcome to participate. The Chincoteague Storytelling Guild is an activity of the Chincoteague Cultural Alliance (CCA), in partnership with the Chincoteague Island Library. CCA continues to work with the Virginia Storytelling Alliance to advance the art of storytelling in all its forms. For more details: Email fluffypopsicle@gmail.com. Visit https://www.chincoteagueca.org/chincoteague-storytelling-guild.html.
Time: 6:30 PM
Location: CCA Community Center for the Arts - 6309 Church Street
Sponsor: Chincoteague Cultural Alliance

---
July 31, 2020
Pony Swim back to Assateague
On Friday, the adult ponies will make the return swim to Assateague Island where they will live in the wild for another year. For more details: Visit www.chincoteague.com/pony_swim_guide.html.
Location: Chincoteague Carnival Grounds (3648 Main Street)
Sponsor: Chincoteague Volunteer Fire Company

---
August 1, 2020
Kitchen Gallery is Open
The Kitchen Gallery features art pieces about 144 square inches or less, ready to hang. This is a great opportunity to acquire a piece from a favorite artist as a gift for another or yourself. CCA's Community Center was formerly the cafeteria of the old elementary school and the back room was the kitchen. Now it's a modern space used for classes and a gallery showing regional art. For more details: Visit https://www.chincoteagueca.org/cca-kitchen-gallery.html.
Time: 10:00 AM - 1:00 PM
Location: CCA Community Center for the Arts - 6309 Church Street
Sponsor: Chincoteague Cultural Alliance

---
August 1, 2020
Chincoteague Island Farmers and Artisans Market
Great things from farm, field and bay, plus quality arts, crafts and attic treasures. The market is your farm to table provider. Look for seasonal produce, seafood, eggs, and meats. Also, shop for jewelry, carvings, art, plants, soaps, and other crafts by local artists. For more details: Visit https://www.chincoteagueca.org.
Time: 9:00 AM - 1:00 PM
Location: CCA Community Center for the Arts - 6309 Church Street
Sponsor: Chincoteague Cultural Alliance

---
August 1, 2020
Free Kids' Art Class
Free Art Class for kids held every the 1st Saturday of each Month from 1pm - 2pm. Young kids please bring an adult. All supplies provided. Taught by CCA artist volunteers. For more details: Visit https://www.chincoteagueca.org.
Time: 1:00 PM - 2:00 PM
Location: CCA Community Center for the Arts - 6309 Church Street
Sponsor: Chincoteague Cultural Alliance

---
August 3, 2020
Manna Cafe
A FREE hot lunch EVERY Monday (11am-1pm) in the social hall at Christ United Methodist Church (6253 Church St, Chincoteague). Manna Cafe 501(c)3 nonprofit that serves the community with food, fellowship and love. For more details: Visit https://www.facebook.com/MannaCafeCI/.
Time: 11:00 AM - 1:00 PM
Location: Christ United Methodist Church Social Hall - 6253 Church St
Sponsor: Manna Cafe

---
August 5, 2020
Conversational Spanish Class
YMCA Active Older Adult Program: Conversational Spanish Class. 5:45 pm - 6:45 pm. For more details: Call 757-336-6266.
Location: The David Landsberger Family YMCA - 6395 Maddox Blvd
Sponsor: The David Landsberger Family YMCA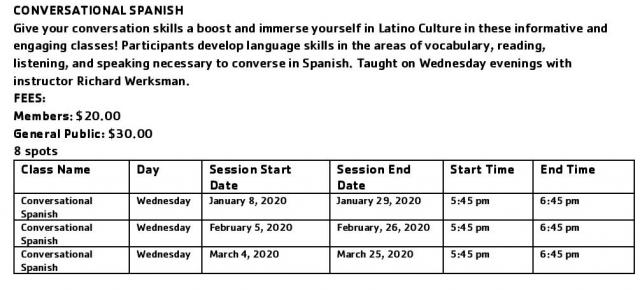 ---
August 5, 2020
Conversational Arabic Class
YMCA Active Older Adult Program: Conversational Arabic Class
Time: 4:30 PM - 5:30 PM
Location: The David Landsberger Family YMCA
Sponsor: The David Landsberger Family YMCA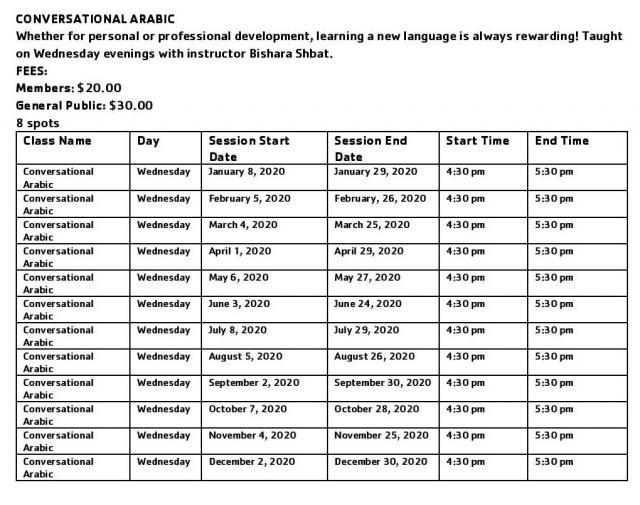 ---
August 5, 2020
Chincoteague Island Farmers and Artisans Market
Great things from farm, field and bay, plus quality arts, crafts and attic treasures. The market is your farm to table provider. Look for seasonal produce, seafood, eggs, and meats. Also, shop for jewelry, carvings, art, plants, soaps, and other crafts by local artists. For more details: Visit https://www.chincoteagueca.org.
Time: 9:00 AM - 1:00 PM
Location: CCA Community Center for the Arts - 6309 Church Street
Sponsor: Chincoteague Cultural Alliance

---
August 6, 2020
Cinema in the Park
Free films outdoors under the stars in Robert Reed Downtown Waterfront Park during the summer months. Bring a chair or blanket. Films begin at dusk. Enjoy popcorn and cold drinks at old-fashioned prices! In case of rain, films are shown at the CCA Center for the Arts (6309 Church Street). The film on Thursday, 8/6 will be "Bell, Book and Candle". For more details: Visit https://www.chincoteagueca.org/summer-cinema-series.html.
Location: Robert Reed Downtown Waterfront Park
Sponsor: Chincoteague Cultural Alliance

---
August 7 - August 8, 2020
95th Annual Chincoteague Volunteer Fire Company Carnival
Rides, Games, Fun, and Food - Chincoteague Island Style! All your favorite Carnival eats available for purchase - Pony Fries, Pizza, Clam and Oyster Fritters, and much more. Rides and games for all ages. Live entertainment on stage. Try your luck at BINGO. All proceeds benefit the Chincoteague Volunteer Fire Company. Dates include July 2-4 (with fireworks July 4 at 10pm), July 10-11, July 17-18, July 24-25, July 27-August 1, and August 7-8.
Time: 7:00 PM - 11:00 PM
Location: Chincoteague Carnival Grounds (3648 Main Street)
Sponsor: Chincoteague Volunteer Fire Company

---
August 8, 2020
NASA Astronomy and Night Sky Summer Series
Discover the night sky from Assateague Island! In celebration of the Perseid Meteor Shower, the refuge will remain open all night. Start your evening at the Herbert H Bateman Education Center Auditorium for NASA's Astronomy 101 presentation at 7:30 pm and 8:00 pm. Space is limited to 140 per session. Then head to the beach (parking lot #1) to join the Delmarva Space Sciences Foundation and Assateague Island National Seashore for stargazing with telescopes and binoculars from 8:30 pm - 9:45 pm. For more details: Visit https://www.nasa.gov/content/wallops-visitor-center/special-events.
Location: Chincoteague National Wildlife Refuge
Sponsor: NASA Wallops Flight Facility

---
August 8, 2020
Kitchen Gallery is Open
The Kitchen Gallery features art pieces about 144 square inches or less, ready to hang. This is a great opportunity to acquire a piece from a favorite artist as a gift for another or yourself. CCA's Community Center was formerly the cafeteria of the old elementary school and the back room was the kitchen. Now it's a modern space used for classes and a gallery showing regional art. For more details: Visit https://www.chincoteagueca.org/cca-kitchen-gallery.html.
Time: 10:00 AM - 1:00 PM
Location: CCA Community Center for the Arts - 6309 Church Street
Sponsor: Chincoteague Cultural Alliance

---
August 8, 2020
Second Saturday Artful Flea Market
An amazing array of arts, crafts, antiques, collectibles and attic treasures. Also pick up fresh local produce and seafood at the the same location until 1:00 PM. For more details: Visit https://www.chincoteagueca.org.
Time: 9:00 AM - 1:00 PM
Location: CCA Community Center for the Arts - 6309 Church Street
Sponsor: Chincoteague Cultural Alliance

---
August 8, 2020
Chincoteague Island Farmers and Artisans Market
Great things from farm, field and bay, plus quality arts, crafts and attic treasures. The market is your farm to table provider. Look for seasonal produce, seafood, eggs, and meats. Also, shop for jewelry, carvings, art, plants, soaps, and other crafts by local artists. For more details: Visit https://www.chincoteagueca.org.
Time: 9:00 AM - 1:00 PM
Location: CCA Community Center for the Arts - 6309 Church Street
Sponsor: Chincoteague Cultural Alliance

---
August 10, 2020
Manna Cafe
A FREE hot lunch EVERY Monday (11am-1pm) in the social hall at Christ United Methodist Church (6253 Church St, Chincoteague). Manna Cafe 501(c)3 nonprofit that serves the community with food, fellowship and love. For more details: Visit https://www.facebook.com/MannaCafeCI/.
Time: 11:00 AM - 1:00 PM
Location: Christ United Methodist Church Social Hall - 6253 Church St
Sponsor: Manna Cafe

---
August 12, 2020
Chincoteague Island Farmers and Artisans Market
Great things from farm, field and bay, plus quality arts, crafts and attic treasures. The market is your farm to table provider. Look for seasonal produce, seafood, eggs, and meats. Also, shop for jewelry, carvings, art, plants, soaps, and other crafts by local artists. For more details: Visit https://www.chincoteagueca.org.
Time: 9:00 AM - 1:00 PM
Location: CCA Community Center for the Arts - 6309 Church Street
Sponsor: Chincoteague Cultural Alliance

---
August 13, 2020
Game Days
YMCA Active Older Adult Program: Game Days. For more details: Call 757-336-6266.
Time: 12:00 PM - 4:00 PM
Location: The David Landsberger Family YMCA - 6395 Maddox Blvd
Sponsor: The David Landsberger Family YMCA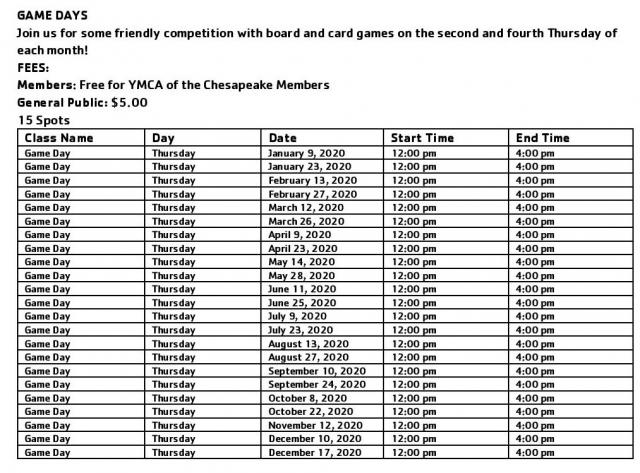 ---
August 15, 2020
Kitchen Gallery is Open
The Kitchen Gallery features art pieces about 144 square inches or less, ready to hang. This is a great opportunity to acquire a piece from a favorite artist as a gift for another or yourself. CCA's Community Center was formerly the cafeteria of the old elementary school and the back room was the kitchen. Now it's a modern space used for classes and a gallery showing regional art. For more details: Visit https://www.chincoteagueca.org/cca-kitchen-gallery.html.
Time: 10:00 AM - 1:00 PM
Location: CCA Community Center for the Arts - 6309 Church Street
Sponsor: Chincoteague Cultural Alliance

---
August 15, 2020
Island Coffeehouse
The Coffeehouse features musical performances, as well as occasional spoken word acts and visual art. Doors open 6:30 pm. Performances begin at 7:00 pm. Admission is $8 for adults, $5 for students (18 and under). Homemade sweets, snacks, coffee, beer, wine and soft drinks available for purchase during the event. Everyone is Welcome! For more details: Visit https://www.chincoteagueca.org/coffeehouse.html.
Time: 6:30 PM
Location: CCA Community Center for the Arts - 6309 Church Street
Sponsor: Chincoteague Cultural Alliance

---
August 15, 2020
Chincoteague Island Farmers and Artisans Market
Great things from farm, field and bay, plus quality arts, crafts and attic treasures. The market is your farm to table provider. Look for seasonal produce, seafood, eggs, and meats. Also, shop for jewelry, carvings, art, plants, soaps, and other crafts by local artists. For more details: Visit https://www.chincoteagueca.org.
Time: 9:00 AM - 1:00 PM
Location: CCA Community Center for the Arts - 6309 Church Street
Sponsor: Chincoteague Cultural Alliance

---
August 16, 2020
Shop the Dock
Shop the Dock is a local vendor market where each vendor carries something different than the next. Featuring live music, free crafts for children, outdoor games, and a chance to win a giveaway basket for each purchasing customer. For more details: Visit https://chincoteaguemerchants.com.
Time: 12:00 PM - 4:00 PM
Location: Robert Reed Downtown Waterfront Park
Sponsor: The Main Street Merchants

---
August 17, 2020
Manna Cafe
A FREE hot lunch EVERY Monday (11am-1pm) in the social hall at Christ United Methodist Church (6253 Church St, Chincoteague). Manna Cafe 501(c)3 nonprofit that serves the community with food, fellowship and love. For more details: Visit https://www.facebook.com/MannaCafeCI/.
Time: 11:00 AM - 1:00 PM
Location: Christ United Methodist Church Social Hall - 6253 Church St
Sponsor: Manna Cafe

---
August 19, 2020
Chincoteague Island Farmers and Artisans Market
Great things from farm, field and bay, plus quality arts, crafts and attic treasures. The market is your farm to table provider. Look for seasonal produce, seafood, eggs, and meats. Also, shop for jewelry, carvings, art, plants, soaps, and other crafts by local artists. For more details: Visit https://www.chincoteagueca.org.
Time: 9:00 AM - 1:00 PM
Location: CCA Community Center for the Arts - 6309 Church Street
Sponsor: Chincoteague Cultural Alliance

---
August 21, 2020
Artsy Activities
We welcome our Active Older Adults to join us in our monthly craft program, held on the third Friday of each month. Program includes all supplies needed, instruction and take home of the themed craft. Crafts can be easily adjusted to all skill levels; therefore everyone is invited to attend! These will be held at the Island Community House. Registration is required. 2/21: Rose Candle Holders; 3/20: Button Trees on Canvas; 4/17: Marbled Mugs; 5/15: Paper Flowers; 6/19: Plastic Spoon Garden Markers; 7/17: Paint Stick Beach Flags; 8/21: Glass Suncatchers; 9/18: Doily Dreamcatchers; 10/16: Toilet Paper Pumpkins; 11/20: Scented Ornaments; and 12/18: Pumpkin Seed Poinsettias. Fees: Members, $10; general public, $15. For more details: Visit https://www.facebook.com/events/2490897981131389/.
Time: 1:00 PM - 4:00 PM
Location: Island Community House - 6246 Mumford Street
Sponsor: David Landsberger Family YMCA

---
August 22, 2020
Kitchen Gallery is Open
The Kitchen Gallery features art pieces about 144 square inches or less, ready to hang. This is a great opportunity to acquire a piece from a favorite artist as a gift for another or yourself. CCA's Community Center was formerly the cafeteria of the old elementary school and the back room was the kitchen. Now it's a modern space used for classes and a gallery showing regional art. For more details: Visit https://www.chincoteagueca.org/cca-kitchen-gallery.html.
Time: 10:00 AM - 1:00 PM
Location: CCA Community Center for the Arts - 6309 Church Street
Sponsor: Chincoteague Cultural Alliance

---
August 22, 2020
Chincoteague Island Farmers and Artisans Market
Great things from farm, field and bay, plus quality arts, crafts and attic treasures. The market is your farm to table provider. Look for seasonal produce, seafood, eggs, and meats. Also, shop for jewelry, carvings, art, plants, soaps, and other crafts by local artists. For more details: Visit https://www.chincoteagueca.org.
Time: 9:00 AM - 1:00 PM
Location: CCA Community Center for the Arts - 6309 Church Street
Sponsor: Chincoteague Cultural Alliance

---
August 24, 2020
Manna Cafe
A FREE hot lunch EVERY Monday (11am-1pm) in the social hall at Christ United Methodist Church (6253 Church St, Chincoteague). Manna Cafe 501(c)3 nonprofit that serves the community with food, fellowship and love. For more details: Visit https://www.facebook.com/MannaCafeCI/.
Time: 11:00 AM - 1:00 PM
Location: Christ United Methodist Church Social Hall - 6253 Church St
Sponsor: Manna Cafe

---
August 26, 2020
Chincoteague Island Farmers and Artisans Market
Great things from farm, field and bay, plus quality arts, crafts and attic treasures. The market is your farm to table provider. Look for seasonal produce, seafood, eggs, and meats. Also, shop for jewelry, carvings, art, plants, soaps, and other crafts by local artists. For more details: Visit https://www.chincoteagueca.org.
Time: 9:00 AM - 1:00 PM
Location: CCA Community Center for the Arts - 6309 Church Street
Sponsor: Chincoteague Cultural Alliance

---
August 27, 2020
Game Days
YMCA Active Older Adult Program: Game Days. For more details: Call 757-336-6266.
Time: 12:00 PM - 4:00 PM
Location: The David Landsberger Family YMCA - 6395 Maddox Blvd
Sponsor: The David Landsberger Family YMCA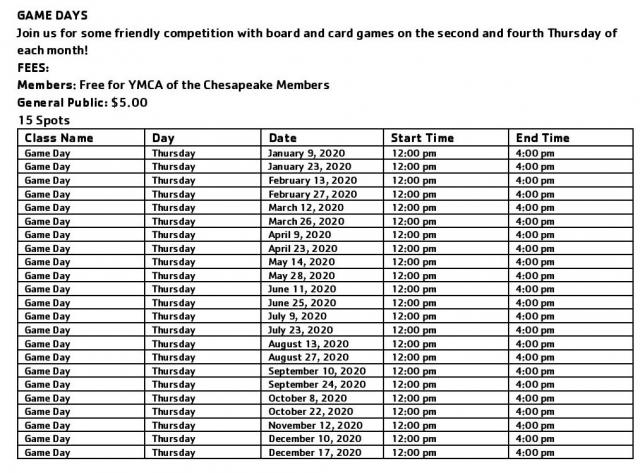 ---
August 27, 2020
Cinema in the Park
Free films outdoors under the stars in Robert Reed Downtown Waterfront Park during the summer months. Bring a chair or blanket. Films begin at dusk. Enjoy popcorn and cold drinks at old-fashioned prices! In case of rain, films are shown at the CCA Center for the Arts (6309 Church Street). The film on Thursday, 8/27 will be "The Finest Hour". For more details: Visit https://www.chincoteagueca.org/summer-cinema-series.html.
Location: Robert Reed Downtown Waterfront Park
Sponsor: Chincoteague Cultural Alliance

---
August 28, 2020
Story Swap
Have you been to a Story Swap? You just never know what kind of story you'll hear... or... maybe you'll end up telling one yourself! Storytelling is a powerful way to connect with and learn about other people. The Chincoteague Storytelling Guild is making connections in our community, and we invite YOU to join us! We hold Story Swaps from March through October (usually on the last Friday of the month) featuring informal and off-the-cuff storytelling, and all are welcome to participate. The Chincoteague Storytelling Guild is an activity of the Chincoteague Cultural Alliance (CCA), in partnership with the Chincoteague Island Library. CCA continues to work with the Virginia Storytelling Alliance to advance the art of storytelling in all its forms. For more details: Email fluffypopsicle@gmail.com. Visit https://www.chincoteagueca.org/chincoteague-storytelling-guild.html.
Time: 6:30 PM
Location: CCA Community Center for the Arts - 6309 Church Street
Sponsor: Chincoteague Cultural Alliance

---
August 29, 2020
Kitchen Gallery is Open
The Kitchen Gallery features art pieces about 144 square inches or less, ready to hang. This is a great opportunity to acquire a piece from a favorite artist as a gift for another or yourself. CCA's Community Center was formerly the cafeteria of the old elementary school and the back room was the kitchen. Now it's a modern space used for classes and a gallery showing regional art. For more details: Visit https://www.chincoteagueca.org/cca-kitchen-gallery.html.
Time: 10:00 AM - 1:00 PM
Location: CCA Community Center for the Arts - 6309 Church Street
Sponsor: Chincoteague Cultural Alliance

---
August 29, 2020
Chincoteague Island Farmers and Artisans Market
Great things from farm, field and bay, plus quality arts, crafts and attic treasures. The market is your farm to table provider. Look for seasonal produce, seafood, eggs, and meats. Also, shop for jewelry, carvings, art, plants, soaps, and other crafts by local artists. For more details: Visit https://www.chincoteagueca.org.
Time: 9:00 AM - 1:00 PM
Location: CCA Community Center for the Arts - 6309 Church Street
Sponsor: Chincoteague Cultural Alliance

---
August 31, 2020
Manna Cafe
A FREE hot lunch EVERY Monday (11am-1pm) in the social hall at Christ United Methodist Church (6253 Church St, Chincoteague). Manna Cafe 501(c)3 nonprofit that serves the community with food, fellowship and love. For more details: Visit https://www.facebook.com/MannaCafeCI/.
Time: 11:00 AM - 1:00 PM
Location: Christ United Methodist Church Social Hall - 6253 Church St
Sponsor: Manna Cafe

---
September 2, 2020
Conversational Spanish Class
YMCA Active Older Adult Program: Conversational Spanish Class. 5:45 pm - 6:45 pm. For more details: Call 757-336-6266.
Location: The David Landsberger Family YMCA - 6395 Maddox Blvd
Sponsor: The David Landsberger Family YMCA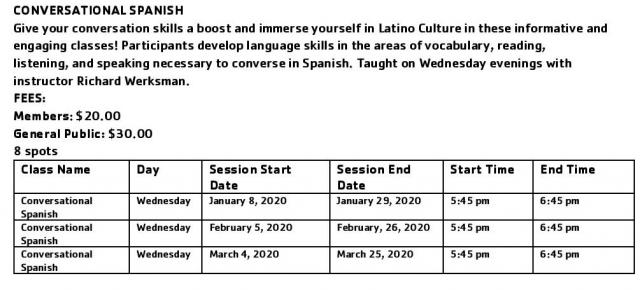 ---
September 2, 2020
Conversational Arabic Class
YMCA Active Older Adult Program: Conversational Arabic Class
Time: 4:30 PM - 5:30 PM
Location: The David Landsberger Family YMCA
Sponsor: The David Landsberger Family YMCA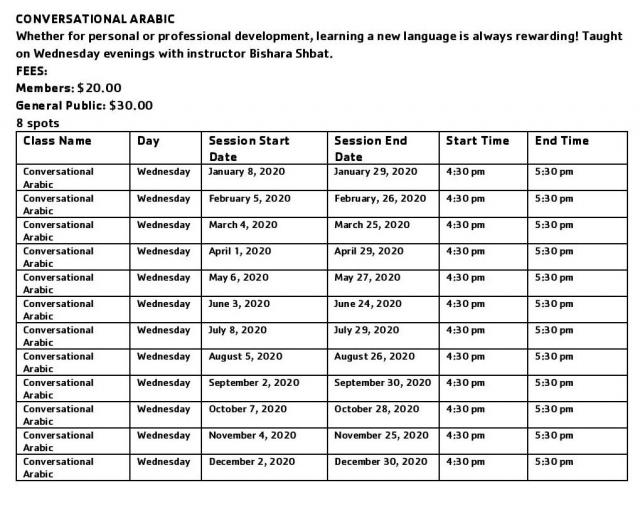 ---
September 2, 2020
Chincoteague Island Farmers and Artisans Market
Great things from farm, field and bay, plus quality arts, crafts and attic treasures. The market is your farm to table provider. Look for seasonal produce, seafood, eggs, and meats. Also, shop for jewelry, carvings, art, plants, soaps, and other crafts by local artists. For more details: Visit https://www.chincoteagueca.org.
Time: 9:00 AM - 1:00 PM
Location: CCA Community Center for the Arts - 6309 Church Street
Sponsor: Chincoteague Cultural Alliance

---
September 5 - September 6, 2020
Chincoteague Decoy Carvers' & Artists' Association Decoy Show
30th Annual Chincoteague Island Decoy & Arts Festival. Featuring decoy carvers, artists, and antiques. For more details: Call 410-546-1635 or 410-726-4049.
Time: 10:00 AM - 4:00 PM

---
September 5, 2020
Kitchen Gallery is Open
The Kitchen Gallery features art pieces about 144 square inches or less, ready to hang. This is a great opportunity to acquire a piece from a favorite artist as a gift for another or yourself. CCA's Community Center was formerly the cafeteria of the old elementary school and the back room was the kitchen. Now it's a modern space used for classes and a gallery showing regional art. For more details: Visit https://www.chincoteagueca.org/cca-kitchen-gallery.html.
Time: 10:00 AM - 1:00 PM
Location: CCA Community Center for the Arts - 6309 Church Street
Sponsor: Chincoteague Cultural Alliance

---
September 5, 2020
Chincoteague Island Farmers and Artisans Market
Great things from farm, field and bay, plus quality arts, crafts and attic treasures. The market is your farm to table provider. Look for seasonal produce, seafood, eggs, and meats. Also, shop for jewelry, carvings, art, plants, soaps, and other crafts by local artists. For more details: Visit https://www.chincoteagueca.org.
Time: 9:00 AM - 1:00 PM
Location: CCA Community Center for the Arts - 6309 Church Street
Sponsor: Chincoteague Cultural Alliance

---
September 5, 2020
Free Kids' Art Class
Free Art Class for kids held every the 1st Saturday of each Month from 1pm - 2pm. Young kids please bring an adult. All supplies provided. Taught by CCA artist volunteers. For more details: Visit https://www.chincoteagueca.org.
Time: 1:00 PM - 2:00 PM
Location: CCA Community Center for the Arts - 6309 Church Street
Sponsor: Chincoteague Cultural Alliance

---
September 7, 2020
Manna Cafe
A FREE hot lunch EVERY Monday (11am-1pm) in the social hall at Christ United Methodist Church (6253 Church St, Chincoteague). Manna Cafe 501(c)3 nonprofit that serves the community with food, fellowship and love. For more details: Visit https://www.facebook.com/MannaCafeCI/.
Time: 11:00 AM - 1:00 PM
Location: Christ United Methodist Church Social Hall - 6253 Church St
Sponsor: Manna Cafe

---
September 9, 2020
Chincoteague Island Farmers and Artisans Market
Great things from farm, field and bay, plus quality arts, crafts and attic treasures. The market is your farm to table provider. Look for seasonal produce, seafood, eggs, and meats. Also, shop for jewelry, carvings, art, plants, soaps, and other crafts by local artists. For more details: Visit https://www.chincoteagueca.org.
Time: 9:00 AM - 1:00 PM
Location: CCA Community Center for the Arts - 6309 Church Street
Sponsor: Chincoteague Cultural Alliance

---
September 10, 2020
Game Days
YMCA Active Older Adult Program: Game Days. For more details: Call 757-336-6266.
Time: 12:00 PM - 4:00 PM
Location: The David Landsberger Family YMCA - 6395 Maddox Blvd
Sponsor: The David Landsberger Family YMCA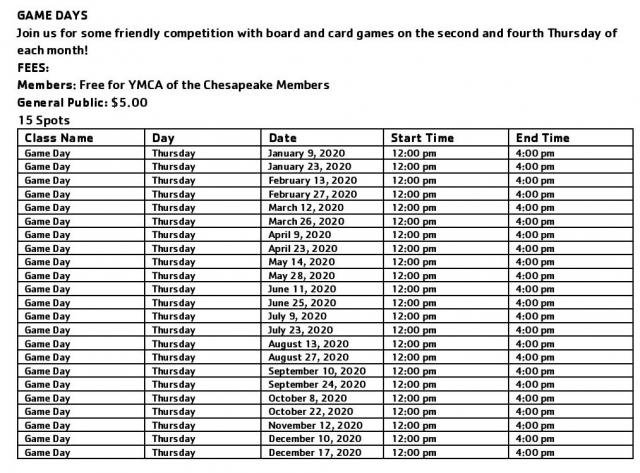 ---
September 12, 2020
Plein Air Art Show & Sale
Each year, the 2nd week of September brings more than 50 fine artists from the Mid-Atlantic and beyond to paint en plein air (French for painting outdoors) on Chincoteague and Assateague Islands. On Saturday evening (9/12), you can see what they've created at a show and sale that is free to the public. Everyone is welcome! Come early; pieces sell quickly! A portion of the artwork sales goes to help the CCA promote the arts on the island. Free and Open to the Public. Refreshments will be served. Plenty of Free Parking. For more details: Visit https://www.chincoteagueca.org.
Time: 6:00 PM - 9:00 PM
Location: Chincoteague Center - 6155 Community Drive
Sponsor: Chincoteague Cultural Alliance

---
September 12, 2020
Annual Poker Run for the Kids
The Chincoteague Police Department serves the Community with the Poker Run & Block Party in September. All proceeds from this event go to Scholarships for Local High School Seniors, feeding less fortunate families year round, and helping families with toys, clothing and food at Christmas time. The Chincoteague Police Department saw the need for these issues, and started the first Poker Run in 2005 to help make these needs come to life.
Time: 11:00 AM - 5:00 PM
Location: Robert Reed Downtown Waterfront Park
Sponsor: Chincoteague Police Dept.

---
September 12, 2020
Kitchen Gallery is Open
The Kitchen Gallery features art pieces about 144 square inches or less, ready to hang. This is a great opportunity to acquire a piece from a favorite artist as a gift for another or yourself. CCA's Community Center was formerly the cafeteria of the old elementary school and the back room was the kitchen. Now it's a modern space used for classes and a gallery showing regional art. For more details: Visit https://www.chincoteagueca.org/cca-kitchen-gallery.html.
Time: 10:00 AM - 1:00 PM
Location: CCA Community Center for the Arts - 6309 Church Street
Sponsor: Chincoteague Cultural Alliance

---
September 12, 2020
Second Saturday Artful Flea Market
An amazing array of arts, crafts, antiques, collectibles and attic treasures. Also pick up fresh local produce and seafood at the the same location until 1:00 PM. For more details: Visit https://www.chincoteagueca.org.
Time: 9:00 AM - 1:00 PM
Location: CCA Community Center for the Arts - 6309 Church Street
Sponsor: Chincoteague Cultural Alliance

---
September 12, 2020
Chincoteague Island Farmers and Artisans Market
Great things from farm, field and bay, plus quality arts, crafts and attic treasures. The market is your farm to table provider. Look for seasonal produce, seafood, eggs, and meats. Also, shop for jewelry, carvings, art, plants, soaps, and other crafts by local artists. For more details: Visit https://www.chincoteagueca.org.
Time: 9:00 AM - 1:00 PM
Location: CCA Community Center for the Arts - 6309 Church Street
Sponsor: Chincoteague Cultural Alliance

---
September 14, 2020
Manna Cafe
A FREE hot lunch EVERY Monday (11am-1pm) in the social hall at Christ United Methodist Church (6253 Church St, Chincoteague). Manna Cafe 501(c)3 nonprofit that serves the community with food, fellowship and love. For more details: Visit https://www.facebook.com/MannaCafeCI/.
Time: 11:00 AM - 1:00 PM
Location: Christ United Methodist Church Social Hall - 6253 Church St
Sponsor: Manna Cafe

---
September 14, 2020
Youth Aquatics
Age groups include: SWIM STARTERS, ages 6-36 months, 4pm - 4:30pm. PRESCHOOL (ages 3-5), 4:30pm - 5pm. SCHOOL AGE (Grades K-12). 5pm - 5:30pm. For more details: Call 757-336-6266. Visit https://ymcachesapeake.org/.
Location: Comfort Suites Indoor Pool - 4195 Main St
Sponsor: The David Landsberger Family YMCA

---
September 16, 2020
Chincoteague Island Farmers and Artisans Market
Great things from farm, field and bay, plus quality arts, crafts and attic treasures. The market is your farm to table provider. Look for seasonal produce, seafood, eggs, and meats. Also, shop for jewelry, carvings, art, plants, soaps, and other crafts by local artists. For more details: Visit https://www.chincoteagueca.org.
Time: 9:00 AM - 1:00 PM
Location: CCA Community Center for the Arts - 6309 Church Street
Sponsor: Chincoteague Cultural Alliance

---
September 18, 2020
Artsy Activities
We welcome our Active Older Adults to join us in our monthly craft program, held on the third Friday of each month. Program includes all supplies needed, instruction and take home of the themed craft. Crafts can be easily adjusted to all skill levels; therefore everyone is invited to attend! These will be held at the Island Community House. Registration is required. 2/21: Rose Candle Holders; 3/20: Button Trees on Canvas; 4/17: Marbled Mugs; 5/15: Paper Flowers; 6/19: Plastic Spoon Garden Markers; 7/17: Paint Stick Beach Flags; 8/21: Glass Suncatchers; 9/18: Doily Dreamcatchers; 10/16: Toilet Paper Pumpkins; 11/20: Scented Ornaments; and 12/18: Pumpkin Seed Poinsettias. Fees: Members, $10; general public, $15. For more details: Visit https://www.facebook.com/events/2490897981131389/.
Time: 1:00 PM - 4:00 PM
Location: Island Community House - 6246 Mumford Street
Sponsor: David Landsberger Family YMCA

---
September 19, 2020
Kitchen Gallery is Open
The Kitchen Gallery features art pieces about 144 square inches or less, ready to hang. This is a great opportunity to acquire a piece from a favorite artist as a gift for another or yourself. CCA's Community Center was formerly the cafeteria of the old elementary school and the back room was the kitchen. Now it's a modern space used for classes and a gallery showing regional art. For more details: Visit https://www.chincoteagueca.org/cca-kitchen-gallery.html.
Time: 10:00 AM - 1:00 PM
Location: CCA Community Center for the Arts - 6309 Church Street
Sponsor: Chincoteague Cultural Alliance

---
September 19, 2020
Island Coffeehouse
The Coffeehouse features musical performances, as well as occasional spoken word acts and visual art. Doors open 6:30 pm. Performances begin at 7:00 pm. Admission is $8 for adults, $5 for students (18 and under). Homemade sweets, snacks, coffee, beer, wine and soft drinks available for purchase during the event. Everyone is Welcome! For more details: Visit https://www.chincoteagueca.org/coffeehouse.html.
Time: 6:30 PM
Location: CCA Community Center for the Arts - 6309 Church Street
Sponsor: Chincoteague Cultural Alliance

---
September 19, 2020
Chincoteague Island Farmers and Artisans Market
Great things from farm, field and bay, plus quality arts, crafts and attic treasures. The market is your farm to table provider. Look for seasonal produce, seafood, eggs, and meats. Also, shop for jewelry, carvings, art, plants, soaps, and other crafts by local artists. For more details: Visit https://www.chincoteagueca.org.
Time: 9:00 AM - 1:00 PM
Location: CCA Community Center for the Arts - 6309 Church Street
Sponsor: Chincoteague Cultural Alliance

---
September 20, 2020
Shop the Dock
Shop the Dock is a local vendor market where each vendor carries something different than the next. Featuring live music, free crafts for children, outdoor games, and a chance to win a giveaway basket for each purchasing customer. For more details: Visit https://chincoteaguemerchants.com.
Time: 12:00 PM - 4:00 PM
Location: Robert Reed Downtown Waterfront Park
Sponsor: The Main Street Merchants

---
September 21, 2020
Manna Cafe
A FREE hot lunch EVERY Monday (11am-1pm) in the social hall at Christ United Methodist Church (6253 Church St, Chincoteague). Manna Cafe 501(c)3 nonprofit that serves the community with food, fellowship and love. For more details: Visit https://www.facebook.com/MannaCafeCI/.
Time: 11:00 AM - 1:00 PM
Location: Christ United Methodist Church Social Hall - 6253 Church St
Sponsor: Manna Cafe

---
September 24, 2020
Game Days
YMCA Active Older Adult Program: Game Days. For more details: Call 757-336-6266.
Time: 12:00 PM - 4:00 PM
Location: The David Landsberger Family YMCA - 6395 Maddox Blvd
Sponsor: The David Landsberger Family YMCA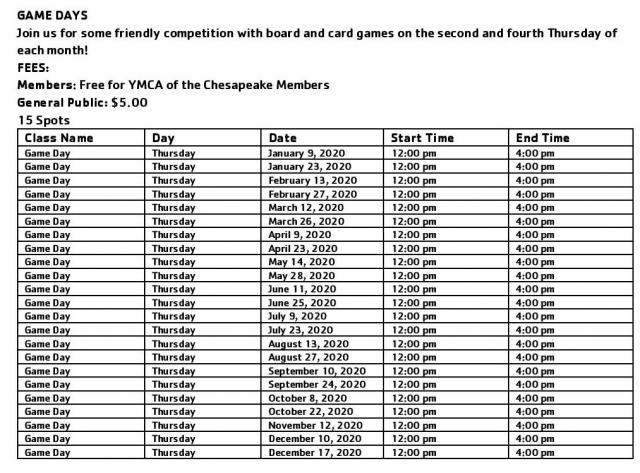 ---
September 25, 2020
Story Swap
Have you been to a Story Swap? You just never know what kind of story you'll hear... or... maybe you'll end up telling one yourself! Storytelling is a powerful way to connect with and learn about other people. The Chincoteague Storytelling Guild is making connections in our community, and we invite YOU to join us! We hold Story Swaps from March through October (usually on the last Friday of the month) featuring informal and off-the-cuff storytelling, and all are welcome to participate. The Chincoteague Storytelling Guild is an activity of the Chincoteague Cultural Alliance (CCA), in partnership with the Chincoteague Island Library. CCA continues to work with the Virginia Storytelling Alliance to advance the art of storytelling in all its forms. For more details: Email fluffypopsicle@gmail.com. Visit https://www.chincoteagueca.org/chincoteague-storytelling-guild.html.
Time: 6:30 PM
Location: CCA Community Center for the Arts - 6309 Church Street
Sponsor: Chincoteague Cultural Alliance

---
September 26, 2020
5th Annual Cork & Craft Festival
Raise a glass to another year of craft beer, wine, vendors, food trucks and live music at this fun festival! This event is open to the public, tickets required. This event proudly supports VA Special Olympics. For more details: Call 757-336-3111. Email events@chincoteagueislandkoa.com. Visit https://koa.com/campgrounds/chincoteague/.
Time: 12:00 PM - 6:00 PM
Location: Chincoteague Island KOA Resort (6742 Maddox Blvd)
Sponsor: Chincoteague Island KOA Resort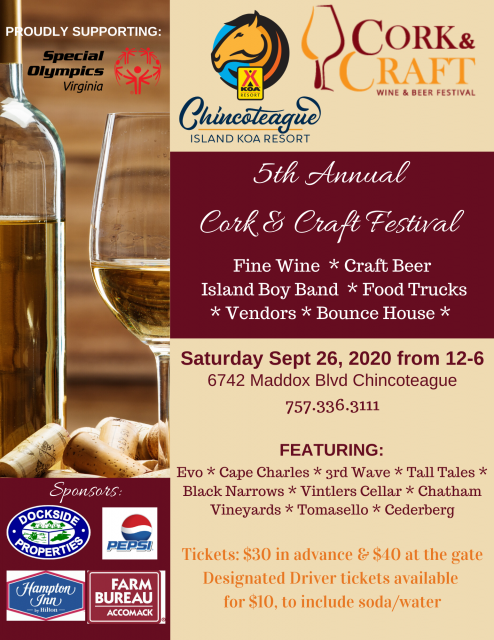 ---
September 26, 2020
5th Annual Cork & Craft Festival
Join Chincoteague Island KOA and the Special Olympics of Virginia for the 5th Annual Cork & Craft Beer and Wine festival. Sip on a variety of beer & wine while listening to the Island Boy Band and enjoying the breathtaking views of Chincoteague Bay and the lighthouse on Assateague Island. Shop for local artisan wares & crafts and indulge in great food provided by local food trucks. For more details: Call 757-336-3111. Visit https://koa.com/campgrounds/chincoteague/events/.
Time: 12:00 PM - 5:00 PM
Location: Chincoteague Island KOA - 6742 Maddox Blvd
Sponsor: Chincoteague Island KOA

---
September 26, 2020
21st Annual Chili Chowder Cook-Off & Car Show
Chili Chowder Cook-off: Free Admission. Live Music. Arts & Crafts Vendors. Great Food. Raffles. Family Fun. Food service beginning at Noon. Annual Car Show: Registration 10 AM - Noon. Trophies awarded at 3 PM. $10 registration fee benefits CVFC Scholarship Fund. First 50 registrations receive a commemorative dash plaque. Trophies for Best In Show, Fire Company's Choice, Mayor's Choice, and Top 30 People's Choice. For more details: Call 757-894-8771. Visit https://www.facebook.com/ChiliChowderCookoffCarShow/.
Time: 11:00 AM - 5:00 PM
Location: Chincoteague Island Carnival Grounds - 3648 Main Street
Sponsor: Chincoteague Volunteer Fire Company

---
September 26, 2020
Chincoteague National Wildlife Refuge Fee Free Day
Entrance to the refuge is free in celebration of National Public Lands Day. For more details: Visit https://www.fws.gov/nwrs/threecolumn.aspx?id=2147557594.
Location: Chincoteague National Wildlife Refuge
Sponsor: Chincoteague National Wildlife Refuge

---
September 26, 2020
Kitchen Gallery is Open
The Kitchen Gallery features art pieces about 144 square inches or less, ready to hang. This is a great opportunity to acquire a piece from a favorite artist as a gift for another or yourself. CCA's Community Center was formerly the cafeteria of the old elementary school and the back room was the kitchen. Now it's a modern space used for classes and a gallery showing regional art. For more details: Visit https://www.chincoteagueca.org/cca-kitchen-gallery.html.
Time: 10:00 AM - 1:00 PM
Location: CCA Community Center for the Arts - 6309 Church Street
Sponsor: Chincoteague Cultural Alliance

---
September 26, 2020
Chincoteague Island Farmers and Artisans Market
Great things from farm, field and bay, plus quality arts, crafts and attic treasures. The market is your farm to table provider. Look for seasonal produce, seafood, eggs, and meats. Also, shop for jewelry, carvings, art, plants, soaps, and other crafts by local artists. For more details: Visit https://www.chincoteagueca.org.
Time: 9:00 AM - 1:00 PM
Location: CCA Community Center for the Arts - 6309 Church Street
Sponsor: Chincoteague Cultural Alliance

---
September 28, 2020
Manna Cafe
A FREE hot lunch EVERY Monday (11am-1pm) in the social hall at Christ United Methodist Church (6253 Church St, Chincoteague). Manna Cafe 501(c)3 nonprofit that serves the community with food, fellowship and love. For more details: Visit https://www.facebook.com/MannaCafeCI/.
Time: 11:00 AM - 1:00 PM
Location: Christ United Methodist Church Social Hall - 6253 Church St
Sponsor: Manna Cafe

---
October 1, 2020
Chincoteague National Wildlife Refuge Fall Hours
Refuge hours change to 6:00am - 8:00pm.
Location: Chincoteague National Wildlife Refuge

---
October 3, 2020
Kitchen Gallery is Open
The Kitchen Gallery features art pieces about 144 square inches or less, ready to hang. This is a great opportunity to acquire a piece from a favorite artist as a gift for another or yourself. CCA's Community Center was formerly the cafeteria of the old elementary school and the back room was the kitchen. Now it's a modern space used for classes and a gallery showing regional art. For more details: Visit https://www.chincoteagueca.org/cca-kitchen-gallery.html.
Time: 10:00 AM - 1:00 PM
Location: CCA Community Center for the Arts - 6309 Church Street
Sponsor: Chincoteague Cultural Alliance

---
October 3, 2020
Chincoteague Island Farmers and Artisans Market
Great things from farm, field and bay, plus quality arts, crafts and attic treasures. The market is your farm to table provider. Look for seasonal produce, seafood, eggs, and meats. Also, shop for jewelry, carvings, art, plants, soaps, and other crafts by local artists. For more details: Visit https://www.chincoteagueca.org.
Time: 9:00 AM - 1:00 PM
Location: CCA Community Center for the Arts - 6309 Church Street
Sponsor: Chincoteague Cultural Alliance

---
October 3, 2020
Free Kids' Art Class
Free Art Class for kids held every the 1st Saturday of each Month from 1pm - 2pm. Young kids please bring an adult. All supplies provided. Taught by CCA artist volunteers. For more details: Visit https://www.chincoteagueca.org.
Time: 1:00 PM - 2:00 PM
Location: CCA Community Center for the Arts - 6309 Church Street
Sponsor: Chincoteague Cultural Alliance

---
October 5, 2020
Manna Cafe
A FREE hot lunch EVERY Monday (11am-1pm) in the social hall at Christ United Methodist Church (6253 Church St, Chincoteague). Manna Cafe 501(c)3 nonprofit that serves the community with food, fellowship and love. For more details: Visit https://www.facebook.com/MannaCafeCI/.
Time: 11:00 AM - 1:00 PM
Location: Christ United Methodist Church Social Hall - 6253 Church St
Sponsor: Manna Cafe

---
October 7, 2020
Conversational Spanish Class
YMCA Active Older Adult Program: Conversational Spanish Class. 5:45 pm - 6:45 pm. For more details: Call 757-336-6266.
Location: The David Landsberger Family YMCA - 6395 Maddox Blvd
Sponsor: The David Landsberger Family YMCA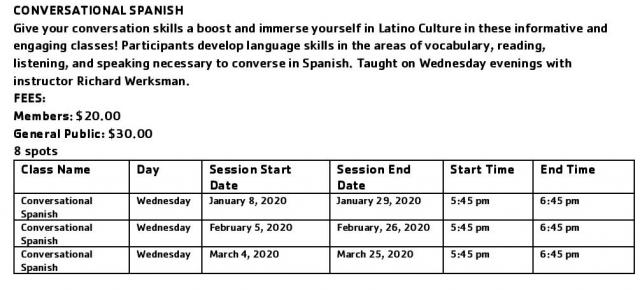 ---
October 7, 2020
Conversational Arabic Class
YMCA Active Older Adult Program: Conversational Arabic Class
Time: 4:30 PM - 5:30 PM
Location: The David Landsberger Family YMCA
Sponsor: The David Landsberger Family YMCA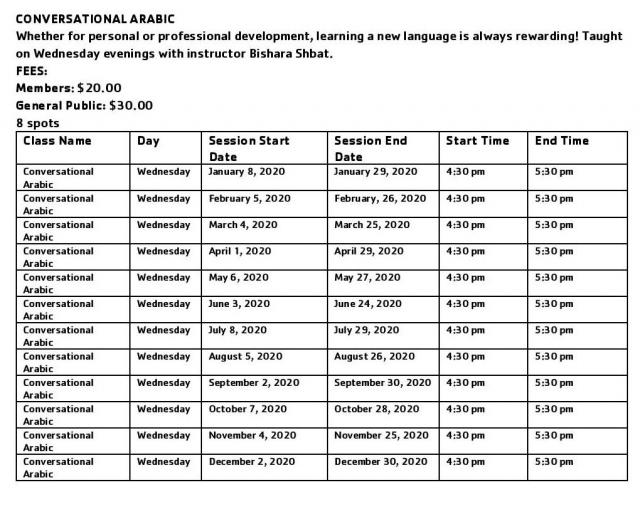 ---
October 8, 2020
Game Days
YMCA Active Older Adult Program: Game Days. For more details: Call 757-336-6266.
Time: 12:00 PM - 4:00 PM
Location: The David Landsberger Family YMCA - 6395 Maddox Blvd
Sponsor: The David Landsberger Family YMCA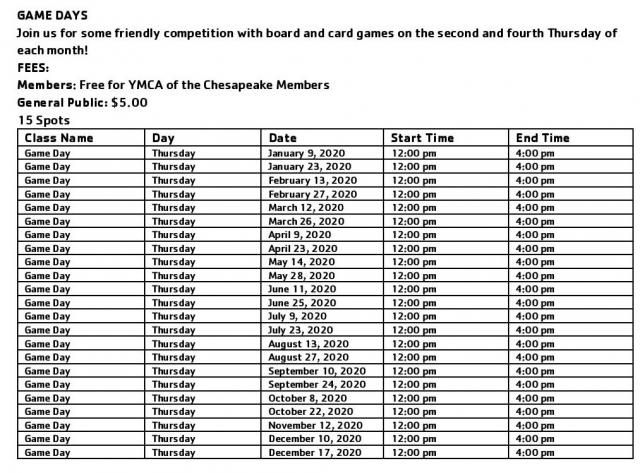 ---
October 10 - October 11, 2020
Chincoteague National Wildlife Refuge Fee Free Weekend
To kick off National Wildlife Refuge Week, entrance to the refuge is free. For more details: Visit https://www.fws.gov/nwrs/threecolumn.aspx?id=2147582963.
Location: Chincoteague National Wildlife Refuge
Sponsor: Chincoteague National Wildlife Refuge

---
October 10, 2020
National Wildlife Refuge Day Celebration
Join us at the Refuge Visitor Center as we celebrate National Wildlife Refuges with a day full of family friendly activities. *Date tentative, subject to change based upon staffing or inclement weather. For more details: Visit https://www.fws.gov/nwrs/threecolumn.aspx?id=2147557601.
Location: Chincoteague National Wildlife Refuge
Sponsor: Chincoteague National Wildlife Refuge

---
October 10, 2020
Kitchen Gallery is Open
The Kitchen Gallery features art pieces about 144 square inches or less, ready to hang. This is a great opportunity to acquire a piece from a favorite artist as a gift for another or yourself. CCA's Community Center was formerly the cafeteria of the old elementary school and the back room was the kitchen. Now it's a modern space used for classes and a gallery showing regional art. For more details: Visit https://www.chincoteagueca.org/cca-kitchen-gallery.html.
Time: 10:00 AM - 1:00 PM
Location: CCA Community Center for the Arts - 6309 Church Street
Sponsor: Chincoteague Cultural Alliance

---
October 10, 2020
Second Saturday Artful Flea Market
An amazing array of arts, crafts, antiques, collectibles and attic treasures. Also pick up fresh local produce and seafood at the the same location until 1:00 PM. For more details: Visit https://www.chincoteagueca.org.
Time: 9:00 AM - 1:00 PM
Location: CCA Community Center for the Arts - 6309 Church Street
Sponsor: Chincoteague Cultural Alliance

---
October 10, 2020
Chincoteague Island Farmers and Artisans Market
Great things from farm, field and bay, plus quality arts, crafts and attic treasures. The market is your farm to table provider. Look for seasonal produce, seafood, eggs, and meats. Also, shop for jewelry, carvings, art, plants, soaps, and other crafts by local artists. For more details: Visit https://www.chincoteagueca.org.
Time: 9:00 AM - 1:00 PM
Location: CCA Community Center for the Arts - 6309 Church Street
Sponsor: Chincoteague Cultural Alliance

---
October 10, 2020
48th Annual Chincoteague Oyster Festival
The Chincoteague Oyster Festival is held to promote the seafood industry and mark the arrival of the oyster season. Come and enjoy oysters-raw, steamed, fritters, and single fried; clam fritters, clam chowder, shrimp cocktail, salad bar, hot dogs, hush puppies, and Boardwalk fries. Beverages are included in the ticket price with beer available for purchase. Island Boy, a festival favorite for over 25 years, will provide live entertainment for everyone's enjoyment. An Extravaganza Raffle is held with the winner receiving t-shirts, tickets, lodging, gift certificates for meals, and much more for the following year's festival. A favorite at the festival is the "Best Place/Space Award" which is given to the best decorated area. There will also be a variety of souvenirs available for purchase. This is an advance ticketed event that is typically sold out before festival day. For more details: Visit www.chincoteagueoysterfestival.com/.
Time: 10:00 AM - 4:00 PM
Sponsor: Chincoteague Chamber of Commerce​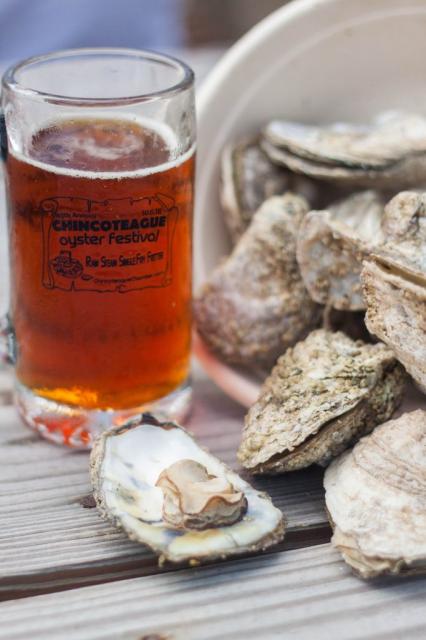 ---
October 12, 2020
Manna Cafe
A FREE hot lunch EVERY Monday (11am-1pm) in the social hall at Christ United Methodist Church (6253 Church St, Chincoteague). Manna Cafe 501(c)3 nonprofit that serves the community with food, fellowship and love. For more details: Visit https://www.facebook.com/MannaCafeCI/.
Time: 11:00 AM - 1:00 PM
Location: Christ United Methodist Church Social Hall - 6253 Church St
Sponsor: Manna Cafe

---
October 16, 2020
Artsy Activities
We welcome our Active Older Adults to join us in our monthly craft program, held on the third Friday of each month. Program includes all supplies needed, instruction and take home of the themed craft. Crafts can be easily adjusted to all skill levels; therefore everyone is invited to attend! These will be held at the Island Community House. Registration is required. 2/21: Rose Candle Holders; 3/20: Button Trees on Canvas; 4/17: Marbled Mugs; 5/15: Paper Flowers; 6/19: Plastic Spoon Garden Markers; 7/17: Paint Stick Beach Flags; 8/21: Glass Suncatchers; 9/18: Doily Dreamcatchers; 10/16: Toilet Paper Pumpkins; 11/20: Scented Ornaments; and 12/18: Pumpkin Seed Poinsettias. Fees: Members, $10; general public, $15. For more details: Visit https://www.facebook.com/events/2490897981131389/.
Time: 1:00 PM - 4:00 PM
Location: Island Community House - 6246 Mumford Street
Sponsor: David Landsberger Family YMCA

---
October 17, 2020
Kitchen Gallery is Open
The Kitchen Gallery features art pieces about 144 square inches or less, ready to hang. This is a great opportunity to acquire a piece from a favorite artist as a gift for another or yourself. CCA's Community Center was formerly the cafeteria of the old elementary school and the back room was the kitchen. Now it's a modern space used for classes and a gallery showing regional art. For more details: Visit https://www.chincoteagueca.org/cca-kitchen-gallery.html.
Time: 10:00 AM - 1:00 PM
Location: CCA Community Center for the Arts - 6309 Church Street
Sponsor: Chincoteague Cultural Alliance

---
October 17, 2020
Island Coffeehouse
The Coffeehouse features musical performances, as well as occasional spoken word acts and visual art. Doors open 6:30 pm. Performances begin at 7:00 pm. Admission is $8 for adults, $5 for students (18 and under). Homemade sweets, snacks, coffee, beer, wine and soft drinks available for purchase during the event. Everyone is Welcome! For more details: Visit https://www.chincoteagueca.org/coffeehouse.html.
Time: 6:30 PM
Location: CCA Community Center for the Arts - 6309 Church Street
Sponsor: Chincoteague Cultural Alliance

---
October 17, 2020
Chincoteague Island Farmers and Artisans Market
Great things from farm, field and bay, plus quality arts, crafts and attic treasures. The market is your farm to table provider. Look for seasonal produce, seafood, eggs, and meats. Also, shop for jewelry, carvings, art, plants, soaps, and other crafts by local artists. For more details: Visit https://www.chincoteagueca.org.
Time: 9:00 AM - 1:00 PM
Location: CCA Community Center for the Arts - 6309 Church Street
Sponsor: Chincoteague Cultural Alliance

---
October 18, 2020
Shop the Dock
Shop the Dock is a local vendor market where each vendor carries something different than the next. Featuring live music, free crafts for children, outdoor games, and a chance to win a giveaway basket for each purchasing customer. For more details: Visit https://chincoteaguemerchants.com.
Time: 12:00 PM - 4:00 PM
Location: Robert Reed Downtown Waterfront Park
Sponsor: The Main Street Merchants

---
October 19, 2020
Manna Cafe
A FREE hot lunch EVERY Monday (11am-1pm) in the social hall at Christ United Methodist Church (6253 Church St, Chincoteague). Manna Cafe 501(c)3 nonprofit that serves the community with food, fellowship and love. For more details: Visit https://www.facebook.com/MannaCafeCI/.
Time: 11:00 AM - 1:00 PM
Location: Christ United Methodist Church Social Hall - 6253 Church St
Sponsor: Manna Cafe

---
October 22, 2020
Game Days
YMCA Active Older Adult Program: Game Days. For more details: Call 757-336-6266.
Time: 12:00 PM - 4:00 PM
Location: The David Landsberger Family YMCA - 6395 Maddox Blvd
Sponsor: The David Landsberger Family YMCA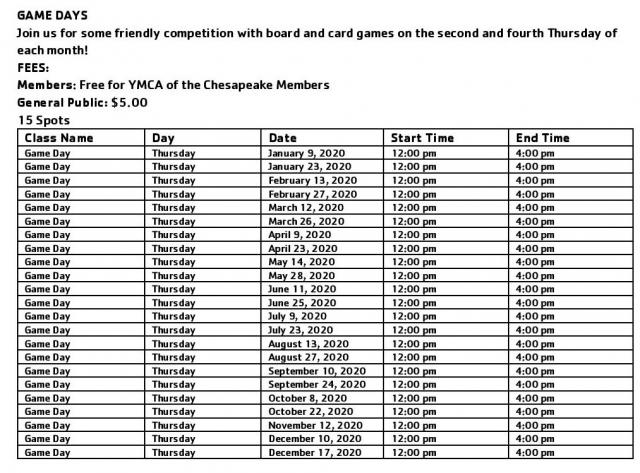 ---
October 24, 2020
Kitchen Gallery is Open
The Kitchen Gallery features art pieces about 144 square inches or less, ready to hang. This is a great opportunity to acquire a piece from a favorite artist as a gift for another or yourself. CCA's Community Center was formerly the cafeteria of the old elementary school and the back room was the kitchen. Now it's a modern space used for classes and a gallery showing regional art. For more details: Visit https://www.chincoteagueca.org/cca-kitchen-gallery.html.
Time: 10:00 AM - 1:00 PM
Location: CCA Community Center for the Arts - 6309 Church Street
Sponsor: Chincoteague Cultural Alliance

---
October 24, 2020
Chincoteague Island Farmers and Artisans Market
Great things from farm, field and bay, plus quality arts, crafts and attic treasures. The market is your farm to table provider. Look for seasonal produce, seafood, eggs, and meats. Also, shop for jewelry, carvings, art, plants, soaps, and other crafts by local artists. For more details: Visit https://www.chincoteagueca.org.
Time: 9:00 AM - 1:00 PM
Location: CCA Community Center for the Arts - 6309 Church Street
Sponsor: Chincoteague Cultural Alliance

---
October 26, 2020
Manna Cafe
A FREE hot lunch EVERY Monday (11am-1pm) in the social hall at Christ United Methodist Church (6253 Church St, Chincoteague). Manna Cafe 501(c)3 nonprofit that serves the community with food, fellowship and love. For more details: Visit https://www.facebook.com/MannaCafeCI/.
Time: 11:00 AM - 1:00 PM
Location: Christ United Methodist Church Social Hall - 6253 Church St
Sponsor: Manna Cafe

---
October 26, 2020
Youth Aquatics
Age groups include: SWIM STARTERS, ages 6-36 months, 4pm - 4:30pm. PRESCHOOL (ages 3-5), 4:30pm - 5pm. SCHOOL AGE (Grades K-12). 5pm - 5:30pm. For more details: Call 757-336-6266. Visit https://ymcachesapeake.org/.
Location: Comfort Suites Indoor Pool - 4195 Main St
Sponsor: The David Landsberger Family YMCA

---
October 31, 2020
Kitchen Gallery is Open
The Kitchen Gallery features art pieces about 144 square inches or less, ready to hang. This is a great opportunity to acquire a piece from a favorite artist as a gift for another or yourself. CCA's Community Center was formerly the cafeteria of the old elementary school and the back room was the kitchen. Now it's a modern space used for classes and a gallery showing regional art. For more details: Visit https://www.chincoteagueca.org/cca-kitchen-gallery.html.
Time: 10:00 AM - 1:00 PM
Location: CCA Community Center for the Arts - 6309 Church Street
Sponsor: Chincoteague Cultural Alliance

---
October 31, 2020
Chincoteague Island Farmers and Artisans Market
Great things from farm, field and bay, plus quality arts, crafts and attic treasures. The market is your farm to table provider. Look for seasonal produce, seafood, eggs, and meats. Also, shop for jewelry, carvings, art, plants, soaps, and other crafts by local artists. For more details: Visit https://www.chincoteagueca.org.
Time: 9:00 AM - 1:00 PM
Location: CCA Community Center for the Arts - 6309 Church Street
Sponsor: Chincoteague Cultural Alliance

---
November 1, 2020
Chincoteague National Wildlife Refuge Winter Hours
Refuge hours change to 6:00am - 6:00pm.
Location: Chincoteague National Wildlife Refuge

---
November 2, 2020
Manna Cafe
A FREE hot lunch EVERY Monday (11am-1pm) in the social hall at Christ United Methodist Church (6253 Church St, Chincoteague). Manna Cafe 501(c)3 nonprofit that serves the community with food, fellowship and love. For more details: Visit https://www.facebook.com/MannaCafeCI/.
Time: 11:00 AM - 1:00 PM
Location: Christ United Methodist Church Social Hall - 6253 Church St
Sponsor: Manna Cafe

---
November 4, 2020
Conversational Spanish Class
YMCA Active Older Adult Program: Conversational Spanish Class. 5:45 pm - 6:45 pm. For more details: Call 757-336-6266.
Location: The David Landsberger Family YMCA - 6395 Maddox Blvd
Sponsor: The David Landsberger Family YMCA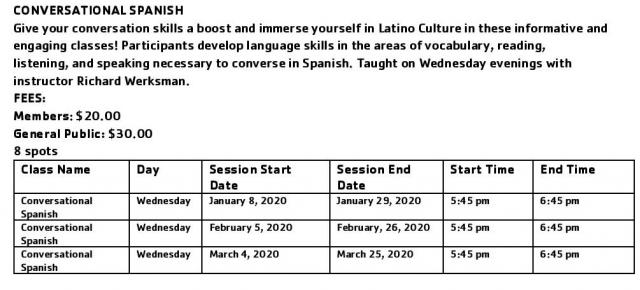 ---
November 4, 2020
Conversational Arabic Class
YMCA Active Older Adult Program: Conversational Arabic Class
Time: 4:30 PM - 5:30 PM
Location: The David Landsberger Family YMCA
Sponsor: The David Landsberger Family YMCA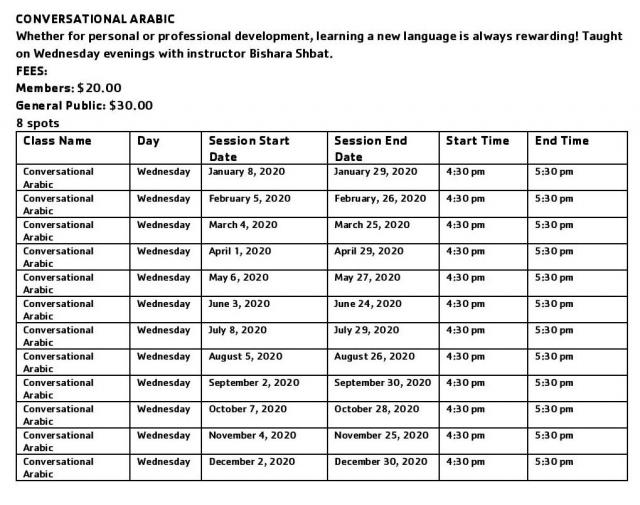 ---
November 7, 2020
Kitchen Gallery is Open
The Kitchen Gallery features art pieces about 144 square inches or less, ready to hang. This is a great opportunity to acquire a piece from a favorite artist as a gift for another or yourself. CCA's Community Center was formerly the cafeteria of the old elementary school and the back room was the kitchen. Now it's a modern space used for classes and a gallery showing regional art. For more details: Visit https://www.chincoteagueca.org/cca-kitchen-gallery.html.
Time: 10:00 AM - 1:00 PM
Location: CCA Community Center for the Arts - 6309 Church Street
Sponsor: Chincoteague Cultural Alliance

---
November 7, 2020
Free Kids' Art Class
Free Art Class for kids held every the 1st Saturday of each Month from 1pm - 2pm. Young kids please bring an adult. All supplies provided. Taught by CCA artist volunteers. For more details: Visit https://www.chincoteagueca.org.
Time: 1:00 PM - 2:00 PM
Location: CCA Community Center for the Arts - 6309 Church Street
Sponsor: Chincoteague Cultural Alliance

---
November 9, 2020
Manna Cafe
A FREE hot lunch EVERY Monday (11am-1pm) in the social hall at Christ United Methodist Church (6253 Church St, Chincoteague). Manna Cafe 501(c)3 nonprofit that serves the community with food, fellowship and love. For more details: Visit https://www.facebook.com/MannaCafeCI/.
Time: 11:00 AM - 1:00 PM
Location: Christ United Methodist Church Social Hall - 6253 Church St
Sponsor: Manna Cafe

---
November 11, 2020
Chincoteague National Wildlife Refuge Fee Free Day
To honor our veterans, entrance to Chincoteague National Wildlife Refuge and other National Public Lands is free. For more details: Visit https://www.fws.gov/nwrs/threecolumn.aspx?id=2147582964.
Location: Chincoteague National Wildlife Refuge
Sponsor: Chincoteague National Wildlife Refuge

---
November 12, 2020
Game Days
YMCA Active Older Adult Program: Game Days. For more details: Call 757-336-6266.
Time: 12:00 PM - 4:00 PM
Location: The David Landsberger Family YMCA - 6395 Maddox Blvd
Sponsor: The David Landsberger Family YMCA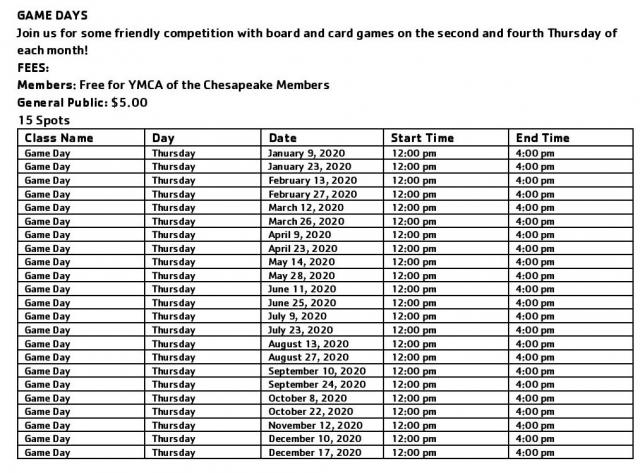 ---
November 14, 2020
Kitchen Gallery is Open
The Kitchen Gallery features art pieces about 144 square inches or less, ready to hang. This is a great opportunity to acquire a piece from a favorite artist as a gift for another or yourself. CCA's Community Center was formerly the cafeteria of the old elementary school and the back room was the kitchen. Now it's a modern space used for classes and a gallery showing regional art. For more details: Visit https://www.chincoteagueca.org/cca-kitchen-gallery.html.
Time: 10:00 AM - 1:00 PM
Location: CCA Community Center for the Arts - 6309 Church Street
Sponsor: Chincoteague Cultural Alliance

---
November 16, 2020
Manna Cafe
A FREE hot lunch EVERY Monday (11am-1pm) in the social hall at Christ United Methodist Church (6253 Church St, Chincoteague). Manna Cafe 501(c)3 nonprofit that serves the community with food, fellowship and love. For more details: Visit https://www.facebook.com/MannaCafeCI/.
Time: 11:00 AM - 1:00 PM
Location: Christ United Methodist Church Social Hall - 6253 Church St
Sponsor: Manna Cafe

---
November 20, 2020
Artsy Activities
We welcome our Active Older Adults to join us in our monthly craft program, held on the third Friday of each month. Program includes all supplies needed, instruction and take home of the themed craft. Crafts can be easily adjusted to all skill levels; therefore everyone is invited to attend! These will be held at the Island Community House. Registration is required. 2/21: Rose Candle Holders; 3/20: Button Trees on Canvas; 4/17: Marbled Mugs; 5/15: Paper Flowers; 6/19: Plastic Spoon Garden Markers; 7/17: Paint Stick Beach Flags; 8/21: Glass Suncatchers; 9/18: Doily Dreamcatchers; 10/16: Toilet Paper Pumpkins; 11/20: Scented Ornaments; and 12/18: Pumpkin Seed Poinsettias. Fees: Members, $10; general public, $15. For more details: Visit https://www.facebook.com/events/2490897981131389/.
Time: 1:00 PM - 4:00 PM
Location: Island Community House - 6246 Mumford Street
Sponsor: David Landsberger Family YMCA

---
November 21, 2020
Kitchen Gallery is Open
The Kitchen Gallery features art pieces about 144 square inches or less, ready to hang. This is a great opportunity to acquire a piece from a favorite artist as a gift for another or yourself. CCA's Community Center was formerly the cafeteria of the old elementary school and the back room was the kitchen. Now it's a modern space used for classes and a gallery showing regional art. For more details: Visit https://www.chincoteagueca.org/cca-kitchen-gallery.html.
Time: 10:00 AM - 1:00 PM
Location: CCA Community Center for the Arts - 6309 Church Street
Sponsor: Chincoteague Cultural Alliance

---
November 21, 2020
Island Coffeehouse
The Coffeehouse features musical performances, as well as occasional spoken word acts and visual art. Doors open 6:30 pm. Performances begin at 7:00 pm. Admission is $8 for adults, $5 for students (18 and under). Homemade sweets, snacks, coffee, beer, wine and soft drinks available for purchase during the event. Everyone is Welcome! For more details: Visit https://www.chincoteagueca.org/coffeehouse.html.
Time: 6:30 PM
Location: CCA Community Center for the Arts - 6309 Church Street
Sponsor: Chincoteague Cultural Alliance

---
November 23, 2020
Manna Cafe
A FREE hot lunch EVERY Monday (11am-1pm) in the social hall at Christ United Methodist Church (6253 Church St, Chincoteague). Manna Cafe 501(c)3 nonprofit that serves the community with food, fellowship and love. For more details: Visit https://www.facebook.com/MannaCafeCI/.
Time: 11:00 AM - 1:00 PM
Location: Christ United Methodist Church Social Hall - 6253 Church St
Sponsor: Manna Cafe

---
November 26 - November 29, 2020
Waterfowl Weekend
Fall heralds the return of thousands of waterfowl from their northern breeding grounds to the milder climate of Chincoteague National Wildlife Refuge. Enjoy a variety of overwintering ducks, geese and swans by joining the flocks of visitors who celebrate Thanksgiving Weekend in this special place. *Date tentative, subject to change based upon staffing or sever weather. For more details: Visit https://www.fws.gov/nwrs/threecolumn.aspx?id=2147582946.
Location: Chincoteague National Wildlife Refuge
Sponsor: Chincoteague National Wildlife Refuge

---
November 28, 2020
Kitchen Gallery is Open
The Kitchen Gallery features art pieces about 144 square inches or less, ready to hang. This is a great opportunity to acquire a piece from a favorite artist as a gift for another or yourself. CCA's Community Center was formerly the cafeteria of the old elementary school and the back room was the kitchen. Now it's a modern space used for classes and a gallery showing regional art. For more details: Visit https://www.chincoteagueca.org/cca-kitchen-gallery.html.
Time: 10:00 AM - 1:00 PM
Location: CCA Community Center for the Arts - 6309 Church Street
Sponsor: Chincoteague Cultural Alliance

---
November 28, 2020
Holly Day Market with Wildlife Art Gallery
2 Buildings - Move than 80 Vendors! DECOYS and WILDLIFE ART in the Amrien Activities Center. PLUS arts, crafts, jewelry, antiques, holiday decor and more, inside and outside the CCA Community Center for the Arts. For more details: Visit https://www.chincoteagueca.org.
Time: 9:00 AM - 3:00 PM
Location: CCA Community Center for the Arts - 6309 Church Street
Sponsor: Chincoteague Cultural Alliance

---
November 30, 2020
Manna Cafe
A FREE hot lunch EVERY Monday (11am-1pm) in the social hall at Christ United Methodist Church (6253 Church St, Chincoteague). Manna Cafe 501(c)3 nonprofit that serves the community with food, fellowship and love. For more details: Visit https://www.facebook.com/MannaCafeCI/.
Time: 11:00 AM - 1:00 PM
Location: Christ United Methodist Church Social Hall - 6253 Church St
Sponsor: Manna Cafe

---
December 2, 2020
Conversational Spanish Class
YMCA Active Older Adult Program: Conversational Spanish Class. 5:45 pm - 6:45 pm. For more details: Call 757-336-6266.
Location: The David Landsberger Family YMCA - 6395 Maddox Blvd
Sponsor: The David Landsberger Family YMCA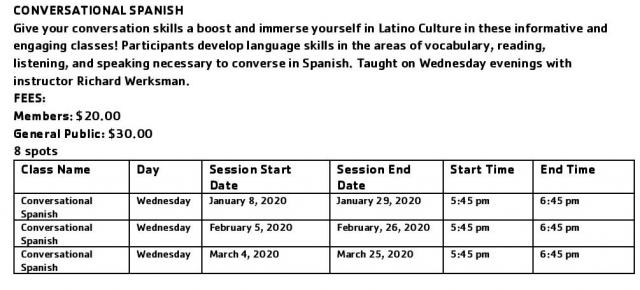 ---
December 2, 2020
Conversational Arabic Class
YMCA Active Older Adult Program: Conversational Arabic Class
Time: 4:30 PM - 5:30 PM
Location: The David Landsberger Family YMCA
Sponsor: The David Landsberger Family YMCA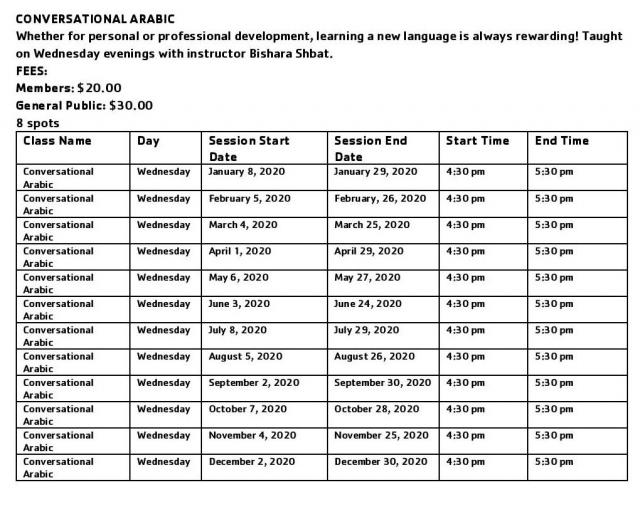 ---
December 5, 2020
Kitchen Gallery is Open
The Kitchen Gallery features art pieces about 144 square inches or less, ready to hang. This is a great opportunity to acquire a piece from a favorite artist as a gift for another or yourself. CCA's Community Center was formerly the cafeteria of the old elementary school and the back room was the kitchen. Now it's a modern space used for classes and a gallery showing regional art. For more details: Visit https://www.chincoteagueca.org/cca-kitchen-gallery.html.
Time: 10:00 AM - 1:00 PM
Location: CCA Community Center for the Arts - 6309 Church Street
Sponsor: Chincoteague Cultural Alliance

---
December 5, 2020
Free Kids' Art Class
Free Art Class for kids held every the 1st Saturday of each Month from 1pm - 2pm. Young kids please bring an adult. All supplies provided. Taught by CCA artist volunteers. For more details: Visit https://www.chincoteagueca.org.
Time: 1:00 PM - 2:00 PM
Location: CCA Community Center for the Arts - 6309 Church Street
Sponsor: Chincoteague Cultural Alliance

---
December 7, 2020
Manna Cafe
A FREE hot lunch EVERY Monday (11am-1pm) in the social hall at Christ United Methodist Church (6253 Church St, Chincoteague). Manna Cafe 501(c)3 nonprofit that serves the community with food, fellowship and love. For more details: Visit https://www.facebook.com/MannaCafeCI/.
Time: 11:00 AM - 1:00 PM
Location: Christ United Methodist Church Social Hall - 6253 Church St
Sponsor: Manna Cafe

---
December 7, 2020
Youth Aquatics
Age groups include: SWIM STARTERS, ages 6-36 months, 4pm - 4:30pm. PRESCHOOL (ages 3-5), 4:30pm - 5pm. SCHOOL AGE (Grades K-12). 5pm - 5:30pm. For more details: Call 757-336-6266. Visit https://ymcachesapeake.org/.
Location: Comfort Suites Indoor Pool - 4195 Main St
Sponsor: The David Landsberger Family YMCA

---
December 10, 2020
Game Days
YMCA Active Older Adult Program: Game Days. For more details: Call 757-336-6266.
Time: 12:00 PM - 4:00 PM
Location: The David Landsberger Family YMCA - 6395 Maddox Blvd
Sponsor: The David Landsberger Family YMCA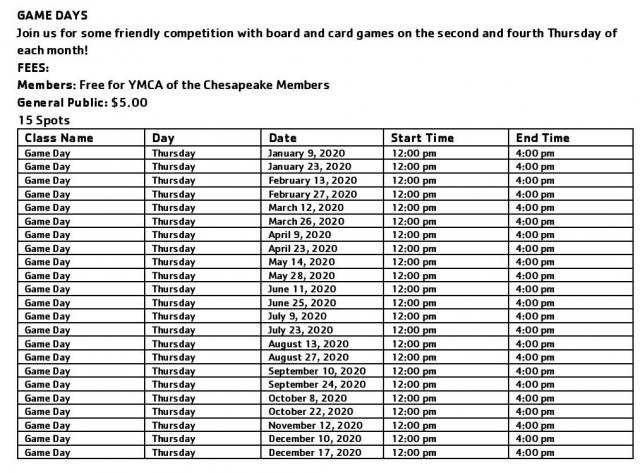 ---
December 12, 2020
Kitchen Gallery is Open
The Kitchen Gallery features art pieces about 144 square inches or less, ready to hang. This is a great opportunity to acquire a piece from a favorite artist as a gift for another or yourself. CCA's Community Center was formerly the cafeteria of the old elementary school and the back room was the kitchen. Now it's a modern space used for classes and a gallery showing regional art. For more details: Visit https://www.chincoteagueca.org/cca-kitchen-gallery.html.
Time: 10:00 AM - 1:00 PM
Location: CCA Community Center for the Arts - 6309 Church Street
Sponsor: Chincoteague Cultural Alliance

---
December 14, 2020
Manna Cafe
A FREE hot lunch EVERY Monday (11am-1pm) in the social hall at Christ United Methodist Church (6253 Church St, Chincoteague). Manna Cafe 501(c)3 nonprofit that serves the community with food, fellowship and love. For more details: Visit https://www.facebook.com/MannaCafeCI/.
Time: 11:00 AM - 1:00 PM
Location: Christ United Methodist Church Social Hall - 6253 Church St
Sponsor: Manna Cafe

---
December 17, 2020
Game Days
YMCA Active Older Adult Program: Game Days. For more details: Call 757-336-6266.
Time: 12:00 PM - 4:00 PM
Location: The David Landsberger Family YMCA - 6395 Maddox Blvd
Sponsor: The David Landsberger Family YMCA

---
December 18, 2020
Artsy Activities
We welcome our Active Older Adults to join us in our monthly craft program, held on the third Friday of each month. Program includes all supplies needed, instruction and take home of the themed craft. Crafts can be easily adjusted to all skill levels; therefore everyone is invited to attend! These will be held at the Island Community House. Registration is required. 2/21: Rose Candle Holders; 3/20: Button Trees on Canvas; 4/17: Marbled Mugs; 5/15: Paper Flowers; 6/19: Plastic Spoon Garden Markers; 7/17: Paint Stick Beach Flags; 8/21: Glass Suncatchers; 9/18: Doily Dreamcatchers; 10/16: Toilet Paper Pumpkins; 11/20: Scented Ornaments; and 12/18: Pumpkin Seed Poinsettias. Fees: Members, $10; general public, $15. For more details: Visit https://www.facebook.com/events/2490897981131389/.
Time: 1:00 PM - 4:00 PM
Location: Island Community House - 6246 Mumford Street
Sponsor: David Landsberger Family YMCA

---
December 19, 2020
Kitchen Gallery is Open
The Kitchen Gallery features art pieces about 144 square inches or less, ready to hang. This is a great opportunity to acquire a piece from a favorite artist as a gift for another or yourself. CCA's Community Center was formerly the cafeteria of the old elementary school and the back room was the kitchen. Now it's a modern space used for classes and a gallery showing regional art. For more details: Visit https://www.chincoteagueca.org/cca-kitchen-gallery.html.
Time: 10:00 AM - 1:00 PM
Location: CCA Community Center for the Arts - 6309 Church Street
Sponsor: Chincoteague Cultural Alliance

---
December 21, 2020
Manna Cafe
A FREE hot lunch EVERY Monday (11am-1pm) in the social hall at Christ United Methodist Church (6253 Church St, Chincoteague). Manna Cafe 501(c)3 nonprofit that serves the community with food, fellowship and love. For more details: Visit https://www.facebook.com/MannaCafeCI/.
Time: 11:00 AM - 1:00 PM
Location: Christ United Methodist Church Social Hall - 6253 Church St
Sponsor: Manna Cafe

---
December 26, 2020
Kitchen Gallery is Open
The Kitchen Gallery features art pieces about 144 square inches or less, ready to hang. This is a great opportunity to acquire a piece from a favorite artist as a gift for another or yourself. CCA's Community Center was formerly the cafeteria of the old elementary school and the back room was the kitchen. Now it's a modern space used for classes and a gallery showing regional art. For more details: Visit https://www.chincoteagueca.org/cca-kitchen-gallery.html.
Time: 10:00 AM - 1:00 PM
Location: CCA Community Center for the Arts - 6309 Church Street
Sponsor: Chincoteague Cultural Alliance

---
December 28, 2020
Manna Cafe
A FREE hot lunch EVERY Monday (11am-1pm) in the social hall at Christ United Methodist Church (6253 Church St, Chincoteague). Manna Cafe 501(c)3 nonprofit that serves the community with food, fellowship and love. For more details: Visit https://www.facebook.com/MannaCafeCI/.
Time: 11:00 AM - 1:00 PM
Location: Christ United Methodist Church Social Hall - 6253 Church St
Sponsor: Manna Cafe