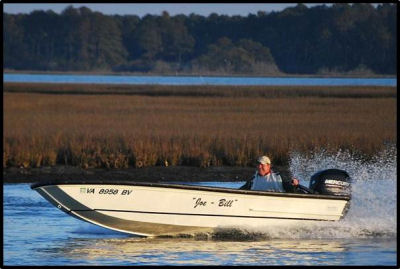 The Chincoteague Island Waterman's Memorial and the Museum of Chincoteague Island have teamed up to host a raffle with all proceeds directly benefiting the construction of a life-size bronze statue dedicated to watermen, their families and those lost at sea. The memorial statue will be located at a site provided by The Town of Chincoteague at Reed Park overlooking the Chincoteague waterfront. The winner will receive a new, 16 foot Chincoteague Scow with a 50HP Mercury Outboard (4-stroke, Tiller-handle, Electric Start, Power Trim & Tilt), and Load Rite Trailer.
The scow will also be featured at boat shows and events across the Delmarva Peninsula over the next year. The wood and fiberglass scow was hand-built using traditional methods by Chincoteague Island native, Barry Abell, who developed the new design based on those of the original Chincoteague Island boat builders, including Herbert Jester, George Bowden, Charles Ralph Turlington, Louis Hancock and Shreves Wimbrow. Abell spent 18 months designing and building the scow to benefit the Chincoteague Island Waterman's Memorial Project, which he founded in February 2006 to raise funds for a waterman's statue and, in part, to remember the 31 crewmen who were lost on the SS Marine Electric in February 1983.
All the funds needed to purchase the outboard motor and trailer were donated by 50 Chincoteague Island watermen, businessmen and residents who also believe that a statue should be built to commemorate the work and sacrifice of all those "Who Go Down To the Sea in Ships."
Tickets are for sale at $10 each or $50 for a book of 6 tickets. This is a limited raffle event with approximately 4,000 tickets for sale. Tickets are available at the Museum of Chincoteague Island and businesses around the island.
The drawing will be held at the 2013 Chincoteague Oyster Festival Saturday, October 12, 2013 at 4 pm (Ticket Holder Does Not Have To Be Present To Win). Additional cash donations by those who wish to support the memorial project are welcomed. Make checks payable to the Museum of Chincoteague Island. In conjunction with the memorial project, the organizers are seeking information about watermen lost at sea, survival stories, any material related to local boat builders, and photographs of vessels and watermen from Chincoteague Island and surrounding areas that would be entered into the museum's archives and form the basis for a special waterman's exhibit.
For Tickets and Information contact Barry Abell at 757-336-3595 / barry.abell@msn.com; or the Museum of Chincoteague at 757-336-6117.
This article was published by Chincoteague.com on 1/13/2013.
Receive more articles like this one, delivered to you, by subscribing to our RSS Feed!